Blog
Instruments
There's nothing quite like the sound of jingling bells in a brass band! It absolutely sets the mood of any piece.  It's that magical 'Christmassy' feel that jingling bells instantly transport you to. That mystical Santa's sleighs and reindeer, Rudolf and all that jingling jazz!

History of Jingling Bells – when did jingle bells first appear?
In a vehicle you have the horn to warn others of your approach.  On a bicycle its a bell.  Centuries ago, horse drawn carriage owners attached small sets of bells to their horses to warn anyone of the approaching horses and carriage and avoid collisions at intersections.  This was also true of reindeer pulling sleighs in colder climates. 
From this early warning system was born a musical instrument in the percussion section.  Jingling bells were also transported into the Santa Clause mythical legend and now days you cannot separate the sound of jingling bells from Christmas!
 Where Did the Song Jingle Bells Originate From?
Jingle bells, jingle bells,
Jingle all the way;
Oh! what fun it is to ride
In a one-horse open sleigh
No need to print it out really is there – we all know the words and have all played this on the lead up to Christmas in brass bands across the world.  But who came up with the original song?  I always believed it was of European origin but was completely off the mark.  In fact out by over 5000Km!
Jingle Bells originated in a bar in Medford Massachusetts in the good old USA!  The song was written by James Lord Pierpont (1822–1893) at 19 high Street in Medford Square, which at the time in 1850 was Simpsons Tavern. It is said that the song was inspired by the annual sleigh races held during the 19th Century in the town.
The song was originally intended as a Thanksgiving song but in September 1857 Minstrel Singer, Johnny Pell performed the song at Ordway Hall,  Boston and after that it was generally adopted for the Christmas holiday season.  It was first recorded on an  Edison Record Cylinder in 1889.  James Lord Pierpont was not only a talented tunesmith  had the savvy and foresight to copyright the song –  bet he made a few dollars out of that!!!
Jingling Bells – What Instruments Are There on the Market?
Jingling bells come in all shapes and sizes ranging from a single sleigh bell – like the one in the the 2004 3D animated film 'The Polar Express' up to the Jingling Johnny, also known as the Turkish crescent.
Common Jingling bells and Some Variations
Sleigh bells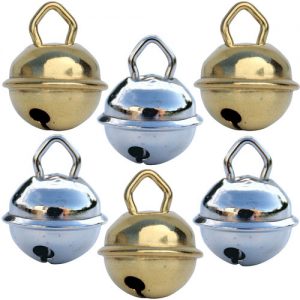 Starting at the very smallest and basic level ids the single sleigh bell.  It sounds magical. 
If you have seen the film 'Polar Express' will know exactly what that sound is (or maybe not if you don't believe in Father Christmas!!!).
These are sometimes used in the brass banding and orchestral world but usually in greater numbers than just one!
This set of six is available in several colours including silver, gold, white, yellow, orange, red, pink, green, blue, light blue, black.
There is also a choice of three different diameters  15 mm, 25 mm and  35 mm 

Concert Hand bell Set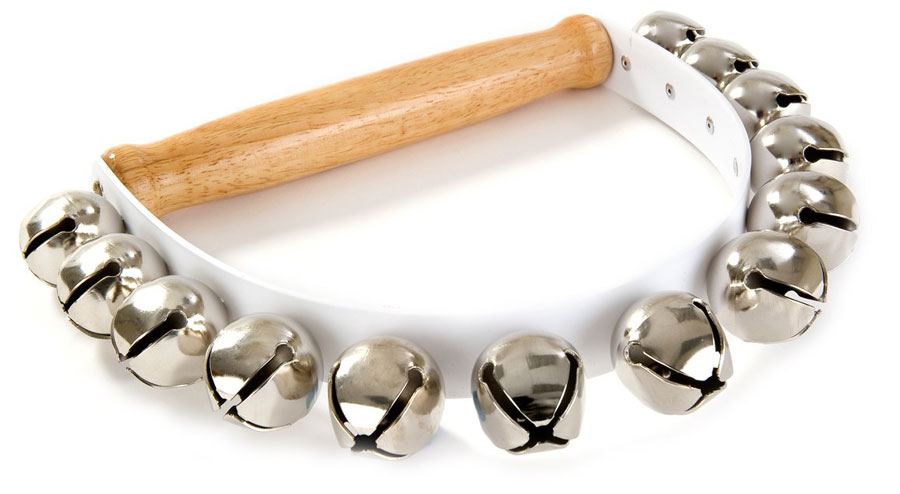 Why settle for one sleigh bell when you can have the whole shooting match in one hand!
This 13 sleigh bell set is perfect for those cheesy Christmas numbers and so easy to use.
Quality wooden handle and leather strap – well constructed and easy to use.
If you haven't got one of these in your band – this is definitely a percussion instrument you should have.

Stick Shaker Sleigh Bells
Taking it up a gear is the 25 bell – sleigh bell shaker
Again really easy to use and very effective to put a large dose of Christmas into your concerts
There is a substantial wooden handle has 4 sides with six bells on each side and a single bell on the tip.

Chinese Bell Tree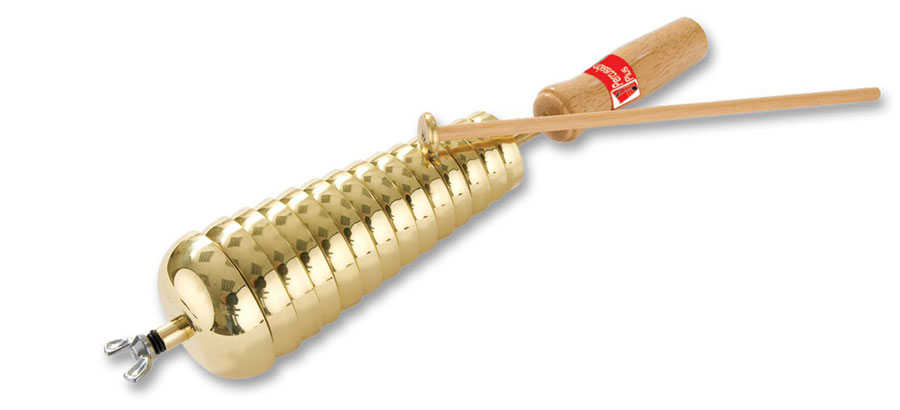 Jingly bells from the far east! This is a 14 bell instrument with a difference. 
Not exactly sleigh bells but they make a very distinctive  ringing sound that resonates for a long time!
Substantial wooden handle with a wooden beater with metal head.

Bell Tree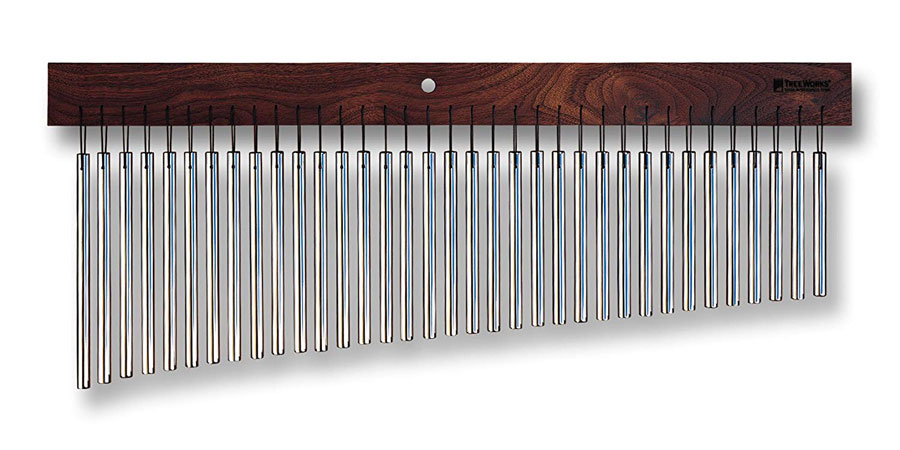 This is the percussion instrument that usually starts or finishes a mysterious section in a piece.
A series of miniature metal hanging bars of different lengths to give a spooky swirly jingling bells effect. 
My favourite percussion instrument as it creates atmosphere wonderfully.

35 Titanium Alloy 'bells' mounted on a mantle made from rare 60-80 year old black walnut wood – a beautiful percussion instrument that makes a beautiful sound.
Each bell tree is hand crafted in Nashville Tennessee.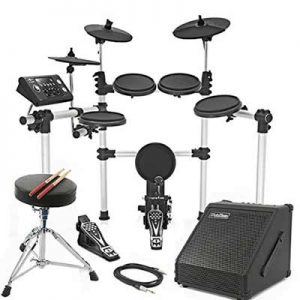 Haven't got room for a full drum kit?  Have you considered an electronic drum kit that takes up much less room and you can play it in relative silence without the neighbours wanting to kill you!  See my review of 5 highly rated electronic drum kits here…