My goal is to provide brass and brass band articles, cartoons and other information that will put a smile on your face.  I have been drawing cartoons for most of my life and have been playing a brass instrument since 1965 when I was a member of the then Wigston Temperance Band in Leicestershire.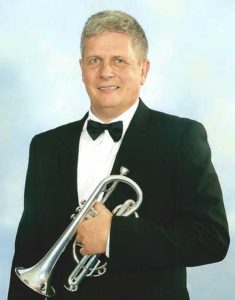 After moving to the South Wales Valleys in 1973 I have played for several brass bands including Ebbw Vale,  Blaina,  Tredegar,  Crosskeys,  Newbridge,  Markham and Cwmaman and made hundreds of friends over the years.  It has been a really interesting experience but what makes it for me is the music and some of the quirky, daft and funny things that can only happen in the world of brass.
In 2002 I sent a letter to the late and great Bob Mulholland, Editor of Brass Band World Magazine.  I included a cartoon to illustrate the point I was making and he obviously liked what he saw.  I had a phone call from Bob inviting be to become the magazines cartoonist which I was delighted to accept and I have had the privilege of drawing cartoons for BBW to date.
I decided to create this web site a couple of years ago and it ran for about 12 months before running into technical glitches that required a complete web site redesign.  So here is the revamped web site which I have built from scratch and I really hope you enjoy browsing through my world of brass.

Thanks Rob Nesbitt – A.K.A. Nezzy
Contact Nezzyonbrass
If you would like to contact Nezzyonbrass.com please enter your details in the form below and I will respond as quickly as possible
Thanks Nezzy