Blog
After the drama and euphoria of playing at this year's National Finals at the Royal Albert Hall, I chatted with 4Bars Rest's Iwan Fox, reminiscing banding times past when we both played for Tredegar in the late 80s and 90s, when I could fit into a 'medium' size band jacket with room to spare and Iwan had jet black hair and the physique of a racing ferret.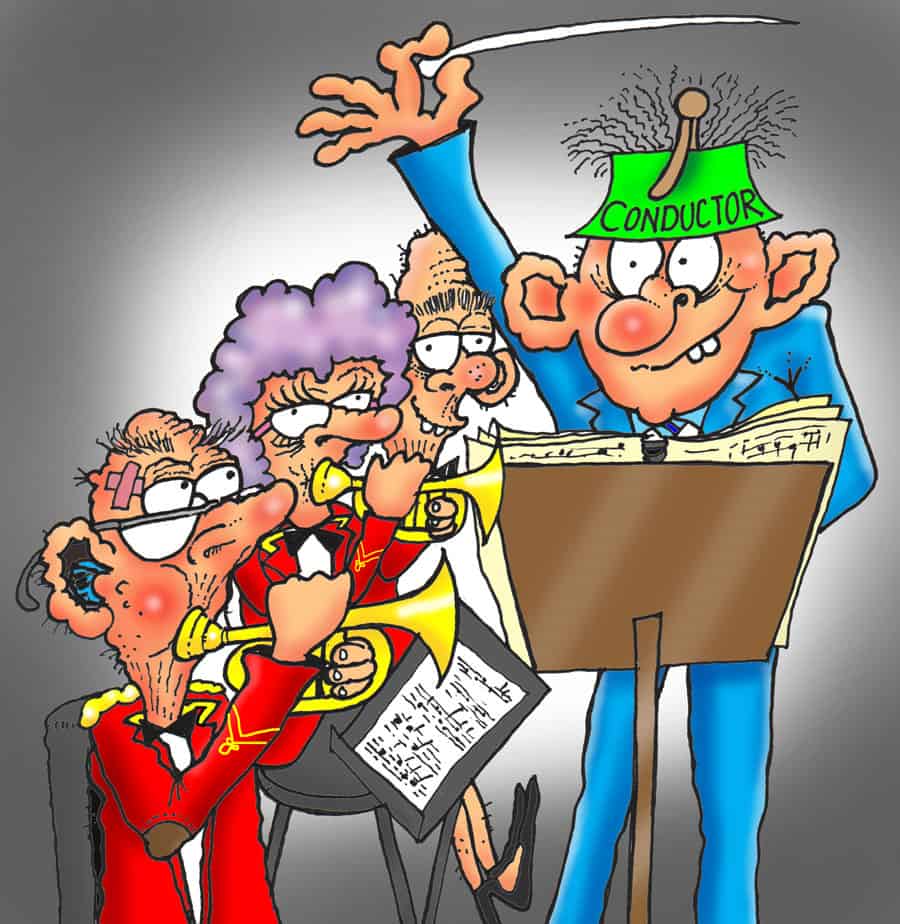 Ghosts from the past came back to life, spectres in maroon and gold, transporting us to an era when the gas used for a cooked breakfast didn't cost ten times more than the egg and bacon on the plate. When you could look down on everyone from the 'Gods' at the top of the RAH (for you young papooses that's the top platform running around those giant upside-down mushrooms dangling from the domed ceiling), and when you could actually guarantee on getting a train to London.
I used to raise an eyebrow to old banding goats recalling the halcyon days of Harry Mortimer, The Free Trade Hall in Manchester, days when you couldn't get a ticket for the big contests for love nor money. Then it struck me like a Bb bass case running over my left foot. I am knocking on a bit!
This stayed with me on the bus journey home from London… another thought. I was sitting near the front of the bus – not at the back where all the students gather, glued to their mobile phones, guffawing at horrendous banding gaffs on YouTube. I had subconsciously placed myself in the geriatric and Jurassic section, just one or two seats from gods waiting room at the front of the bus.
Yet another thought, which really scares me. Christopher Bond our M.D. is less than half my age, a mere stripling of a lad. So, where the hell has all that time gone since I was handed an ancient cornet by the conductor of Wigston Temperance Band, the year England won the World Cup final at Wembly? It flies past, faster than the last movement of Peter Grahams Hyperlink.
One minute you are struggling with 'A Tune a Day', the next you are sweating like a mule waiting to play your final college recital, then, within the blinking of an eye, you are back stage, checking you have your bifocals, Polygrip and hearing aid, wondering if you can stay awake for your 7pm draw and dreaming of slippers and jim-jams.
Clock watching has a new meaning. When you're young, full of banding verve and ambition, the clock hand tempo is 'vivace'. As the years pass it's more of a 'lento'… edging toward 'moderato'… teetering to 'adagio'… then slumping to… 'grave' – beware how you pronounce the latter!
Enough morbidity… With age comes wisdom – what a laugh! Where did I leave my mute? "Where the hell are we?" – I whisper to Ben, my music college side kick on third cornet, my personal bars rest counter.
Recently, while depping for a Parc and Dare Band rehearsal, my phone pinged 'Are you okay' said the message, direct from Ebbw Valley's rehearsal room (my band at the time) where I should have been but had forgotten. I can recall test pieces, venues, results, adjudicators and soloists from back in the day, but cannot for the life of me remember what test piece I listened to at this year's British Open a few weeks ago.
Sneaking into the RAH in 1974, in my 4th section band uniform (luckily it was similar to Brighouse's purple with gold braid), in the days when sneaking in was possible, and listening to Cory's first National winning performance on 'Fantasy for Brass' is a vivid memory, Yet, I had to look online to find out that I played 'Contest Music' at this year's area.
I recently bumped one of my old conductors – I knew the face but who was he?… scary! So, what holds for the future?  Will my lip go, Will the tinnitus in both ears, a constant air-varie of high pitched bell trees get worse? Will I have teeth? I can almost hear the dentist… "Good news Mr Nesbitt, your teeth are okay, but your gums will have to come out!"