Blog
Instruments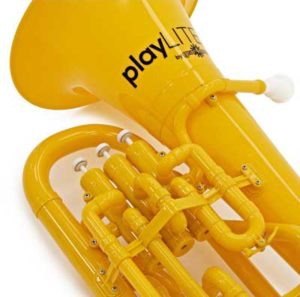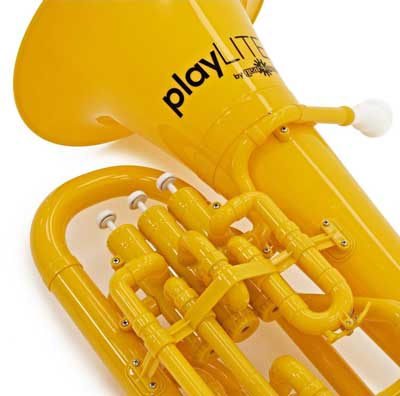 Brass band instruments have been made in various metals for over 200 years and quite recently plastic instruments have started to appear on the market. There are now plastic cornets, plastic trumpets, plastic trombones, plastic euphoniums and now even plastic basses. 
Plastic novelty or are they a contender for their long established metal cousins?
The appeal is obvious as the plastic instruments are a fraction of the cost of metal, they are lightweight and come in a great range of colours which is appealing particularly to younger players.
But what about sound quality, tuning, valve and slide operation and all the other facets that are essential for playing?
Alison Balsom the British trumpet soloist, arranger, producer and music educator has a lot of good things to say about the pTrumpet. This video, which shows her test driving the pTrumpet, gives you a good idea of the qualities of plastic over and above the price, weight and appearance.
This is a great resource for schools as the plastic constructions is really robust for the kind of treatment that you expect in young players hands.
The other nice feature is that all three valves are identical and interchangeable a big plus for learners when cleaning instruments.
The lightweight construction and carry bag make it ideal for 'gigging' and wide color range is a plus to fit in with your bands brand, color scheme or just to be a bit different from the norm.
On the downside the valves are quite noisy and the mouthpieces are subject to your own personal preference. On saying that you can use your own metal mouthpiece so its not such big deal.
Overall the Ptrumpet makes a pretty decent sound and performs well when compared to metal instruments. The main benefit is obviously in the price and robust nature for kids to learn on.
100% plastic 
Available in Black, White, Yellow, Blue and Red
Cool addition to your gig line up
Lightweight – 50% weight of a conventional trumpet
Includes a canvas carry bag and two two different size plastic mouthpieces
Check out the latest color availability and price for the Ptrumpet here…
Pbone – Plastic Trombone
The Ptrumpets big brother costs a fraction of the price of a conventional trombone and is very popular with 'Giggers'.  
The fibreglass construction of the lockable slide makes it far more robust than a metal trombone – a huge advantage for the busy trombonist who is constantly on the go.
The price for this instrument makes this extremely attractive for schools coupled with the robust construction. 
The main critisism for the Pbone is the mouthpiece which has been described as 'a piece of junk'.  However it's horses for courses and most brass players would tend to use their own preferred mouthpiece anyway.
Lightweight at only 800g
Ergonomic grip
One plastic mouthpiece included
Lightweight carry case included
Glass fibre lockable slide which is extremely robust
Get the latest price and colour choice for the Pbone here…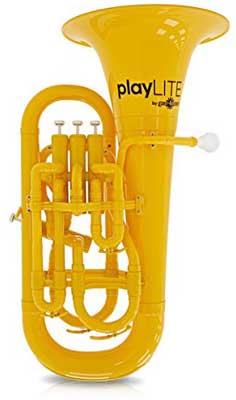 playLIGHT Plastic Euphonium
This is slightly dofferent to the previous plastic instruments as it is a hybrid between plastic and metal with aluminium linesd valves.  
Apart from the obvious differences the playLIGHT euphonium  has all the appearance of a conventional instrument.  
At 850 gramms this is considerably lighter than its metal cousin.
Valves – Quick Action Aluminium Lined 

Available in yellow or black

Authentic Sound And Projection

Mouthpiece included – plastic

Drawstring carrybag included
Get the latest price for the playLITE Euphonium here…


  *playLIGHT Euphonium is currently not available in the USA on Amazon.com –  however an alternative option is provided in the link.
playLITE plastic Tuba
The largest instrument in the band is now available in lightweight plastic which is great news for all Tuba players.  Carrying the tuba from gig to gig and home to rehearsal room can be quite a feat especially for children learning to play.
This full size tuba which weighs in at just under 6Kg is much more mobile friendly.
There are four rotorary aluminium lined valves which may get some getting used to if you have been playing in line valves for your playing career.
Lightweight at 5.75kg

Black ABS Plastic Body

Plastic mouthpiece included

Carrycase with side pocket and shoulder straps included.
See the latest price for the playLITE Tuba here…


  *playLIGHT Tuba is currently not available in the USA on Amazon.com – however an alternative option is provided in the link.