Blog
Composers
Interviews
In the Nezzy interview Rodney Newton gives his slant on brass bands and other musical experiences  in his long and varied career with some quick fire questions…
If you were sent to a desert Island, what is the last thing on earth that you would want to take with you and why?
A mobile phone (I hate the things!).
Have you a pet hate about Brass Bands?
As far as UK banding is concerned, their insularity, their resistance to anything unfamiliar and their craving for recognition by the wider world of music, but only on their terms. These things have almost driven me away from Brass Bands.
What is your most embarrassing moment in your conducting career?
The moment I arrived at the RNCM to conduct a work of mine for full Symphony Orchestra and Brass Band and found that I had left my braces at home. I spent the entire concert conducting with one hand and trying to stop my trousers from falling down with the other (much to the amusement of friends in the audience!).
Has anything really cracked you up in a concert or contest that has made you completely lose the plot – such as not being able to play?
I was taking part in a concert with  Sir Roger Norrington and the London Classical Players at the Queen Elizabeth Hall and I was playing the Turkish Crescent (a percussion instrument consisting of a series of little bells on a long staff – sometimes called a 'Jingling Johnny'). My futile attempts to stop the thing from jingling when it shouldn't have done convulsed my orchestral colleagues, followed by Sir Roger and the front row of the audience and finally, myself!
If you had a time machine, is there a composer that you would like to dispose of before they could inflict their 'talent' on the world and why?
Drake Rimmer. His scoring abilities and knowledge of bands aside, I think that his Brass Band transcriptions of the great orchestral masterpieces are some of the clumsiest and most unmusical I've ever come across. The term, 'bleeding chunks' comes to mind.
Which is the most unusual brass performance you have been involved with or witnessed live?
The first 'Acid Brass' concert at Liverpool's Bluecoat School. Williams Fairey Band shuffled half-apologetically onto the platform looking uneasily at the large audience of clubbers who stared uneasily back at them.
Bryan Hurdley came on stage, brought down his baton and in the words of presenter, the late Tony H. Wilson, 'suddenly we were all good friends'. 
A close second to that comes the performance we gave at the Tate Modern (that evening we could boast that Madonna, Kylie Minogue, Jarvis Cocker, Andrew Lloyd-Webber and Tony Blair all came to our gig!).
Have you an alternative or off the wall method of adjudicating Brass Band contests?
No, the system of adjudication I use is conventional and works for me. I dislike open adjudication – you tend to adjudicate with your eyes as well as your ears.
If you could wave a magic wand, which single musical performance would you like to have been either playing in, conducting, watching live or have written the music for and why?
I'd liked to have attended the National Championship Final in 1947 when Harry Mortimer conducted both Black Dyke and Fairey Aviation and came first and second, pushing his father, Fred, and Foden's (considered unbeatable according to Fred) into third place – just to see the look on Fred's face!
You have been awarded a lottery grant of £10 million what would you do to make Brass Banding  a more enjoyable hobby?
Buy the National contests from Kapitol Promotions and move the Championship Section Final to the Royal Festival Hall – a far more suitable venue for the event in every respect than that gloomy mausoleum in South Kensington.
Which is the worst instrument in a Brass Band i.e. the one you would hate to have to play and why?
Soprano cornet – it's 'the wall of death' of the Brass Band.
If you were the band treasurer and were tasked with buying a new set of uniforms, what innovative features of the uniform would you request to get the band really noticed?
Black uniforms with 'Armed Police' stencilled on the back of the jackets!
What is the funniest remark you have heard from a  conductor?
During a rehearsal of Mahler's Symphony No. 1 (in which I was playing the timpani) the conductor Norman Del Mar said to the orchestra, 'There's a note in the score which says the opening should sound like a call of nature'! (It was some moments before the orchestra stopped laughing).
At certain events like weddings, funerals and Christenings some music is totally inappropriate – can you think of any that spring to mind?
Wedding – a medley of 'Fight the Good Fight', 'Rescue the Perishing' and 'Here We Are Again' (and once I attended a wedding where the organist played just that, so skilfully that I was the only one who noticed!)
Funeral – 'Happy Days are Here Again'
Christening – 'Don't Have Any More, Mrs Moore'
Birth – 'The Dead March from Saul'
At a meeting of The Salvation Army – the 'Drinking Song' from 'The Student Prince'
Have you ever found anything weird, unusual or downright disgusting drawn on or stuck to a score or part?
I've found a few weird and unusual things actually printed on the parts of works by some avante garde composers!
What is the worst cock up in a performance you have been directly involved with or seen live?
A hapless young principal cornet charging in with a solo about 10 bars too early – loud, confident and WRONG! (The poor player in question lost his band the contest, but went on to become a very famous player, teacher and successful conductor – no names, no pack drill!)
Have you a piece of Brass Band music that has you reaching for the razor blades?
Quite a few, but charity forbids me to mention them here.
If you could go forward in your time machine, which Brass Band do you think will win the 2020 National, Open and European, or who would you most like to see winning those contests.
There's only one – Cory!
Last ride in the time machine…If you could go back in time to when you first began your career, what single piece of advice would you give yourself?
Don't!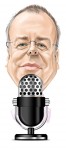 You can listen to Nigel Seaman's podcast with Rodney Newton.  It is a fascinating insight into a long and extremely varied career as a composer, conductor, musician, musical advisor and tutor.