Blog
Brass Band Quizzes
10 quick fire questions to test your brass band knowledge
(Answers at the foot of the page)
    1.Name  the colours in Gilbert Vinter's Classic test piece 'Spectrum' – a bonus point if you get them in the order that they appear in the score.

Name this virtuoso from Cork City who started  to play on baritone age 12 but then switched to Euphonium.

'Mr. Boult goes for a ride in his motor car and Monsieur Ravel turns in his grave' is the quirky name for the middle movement of a championship test piece.  What is the name of the composer and a bonus point for the name of the test piece which has been used in the National Finals of Great Britain in the Royal Albert Hall in the 1990's?

Who was the first British brass band to perform at New Yorks Carnegie Hall in October 1993?

 Which famous conductor and composer/arranger said – "For any conductor and every audience, Fodens Band is a musical Magic Carpet. It continually takes the listener to places that few other ensembles rarely even approach"

Academic Festival Overture,by Brahms was arranged by Dennis Wright, Frank Wright or Orville Wright?
    7.Which English bands crest does this belong to?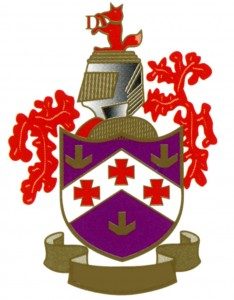 Cavalcade, Pavane and Burlesque are movements from which female composers pen?

What is the meaning of the musical term 'affannato'?

Which New Zealand band is furthest north – Waitekere Auckland Brass, Nelson City brass or Wellington Brass?
Answers:
1.Red, Orange,yellow,green,blue,indigo,purple 2. Gary Curtin – Black Dyke Band 3. Concerto no.1 for brass band Op.44 – Derek Bourgeois 4.Black Dyke Band 5.Howard Snell 6. Dennis wright 7.Desford Band – the fox (symbolic of Leicestershire) holding the letter 'D' was a clue.8. Helen Perkin 9. Anguished 10.Waitekere Auckland Brass