Blog
Books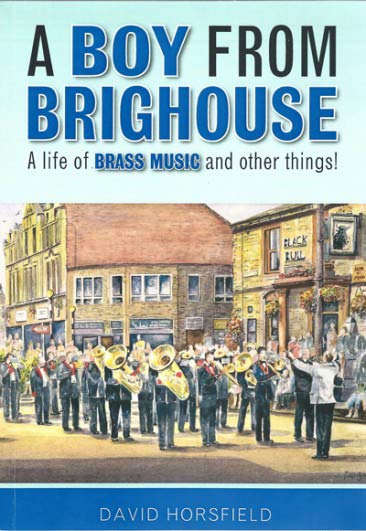 David Horsfield, owner of Kirklees Music, has had a brass band career that most of us can only dream of.  By the time he was just thirteen he was second cornet in the world famous Brighouse and Rastrick Brass Band and rapidly worked his way through the cornet ranks to the principle seat.  In 1966 he  joined Black Dyke Mills to sit bumper up to my favourite cornettist  James Shepherd.  
Under normal circumstances a player moving from principle to bumper up may feel downgraded but I cannot think of a better place to be in at that time assisting one of the banding legends in a truly great band at such an inspiring time in our banding history.
He charts his life from those early days in Rastrick and  I particularly like his style of writing in which he warmly narrates a post war era where there was time to ponder, appreciate and enjoy  life unlike today where we rush headlong through an overdose of multimedia and soundbites.
David's opening words of the first chapter reads…"Looking back over my life I can certainly say that I have been very lucky indeed…"
He is quite right as he was born in the right place, has phenomenal inherant ability and great family encouragement and support.  However he has turned potential into reality through sheer hard graft and dedication and progressed into a fine player, adjudicator, conductor, music entrepreneur and now author.
After leaving Black Dyke Mills Band he was pivotal in the creation of The James Shepherds Versatile Brass – the 'Daddy' of 10 piece brass ensemble.  This was seen as a gamble, leaving the best band in the world at that time to create something new and off piste to traditional banding.  
The initial reaction from their banding peers at the inaugural concert in Upper Mill Civic Hall in 1972 was a standing ovation and the rest is history.  The longest chapter in the book discusses the history of the group which brought a new and welcome twist to brass playing and set a standard of excellence that is admired by all.
The importance of David's family shines like a beacon throughout the 238 pages and it is a pleasure to be invited 'into the parlour' to share the Horsfield's journey through life.   Early years in Rastrick, Football, train spotting, marathon cycling tours, marriage to Jenny, children, holidays and the Kirklees Music business enhances and gives great depth to the narrative.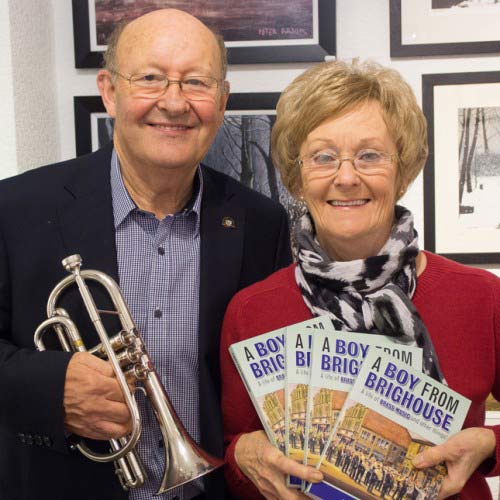 This is an excellent book with marvellous photo's throughout charting Davids brass career both in and out of the band room.
It also includes a CD, narrated by David  with excerpts from his long brass career.  There are some classic  recordings including the winning performance of Black Dyke Mills, conducted by Geoffrey Brand,  playing Journey into Freedom at the 1967 National Brass Band Championships of Great Britain.  I thoroughly enjoyed reading every page and I am sure you will too.