Blog
As the most farcical Westminster pantomime of all time continues without an end in sight what happens to us lowly brass banders in the fallout of Brexit?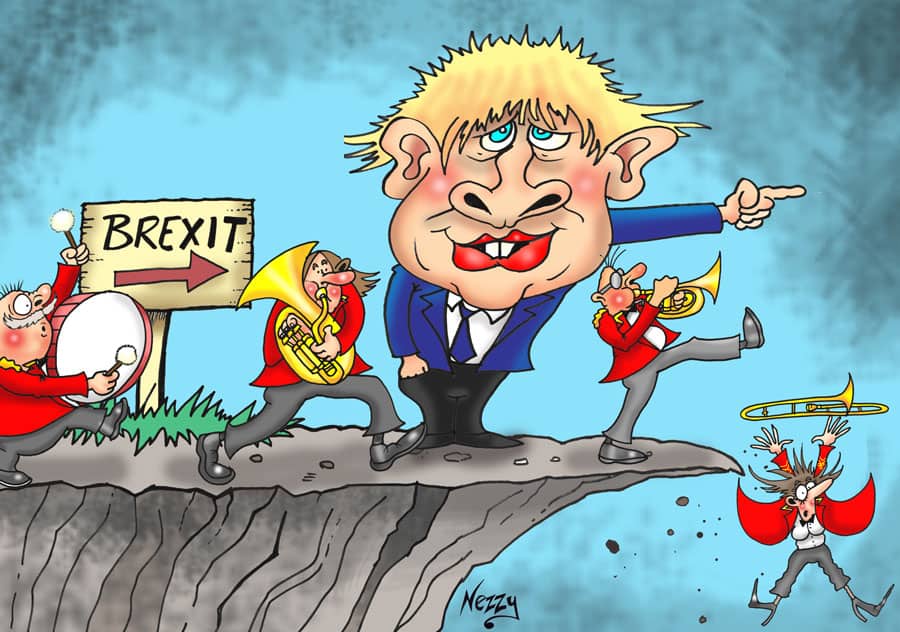 What if Boris 'I'd rather die in a ditch' Johnson clinches a deal, Jeremy Corbyn falls off his fence or the remainers get their way and celebrate with a liberal wailing of bagpipes? 
If we crash out there will be temporary disruption…Courtois shipments halted at Calais. European mutes and French Horns stockpiled in a hanger just outside Barnsley.  3000 Romanian Eb Bass players returning to their homeland causing a national tuba crisis.
4Bars Rest and Brass Pass tv forced to translate their website for all European member states and carry out all interviews and broadcasts in French, German and Spanish. 'Und auf Wiedersehen jetzt' at the very end of Frank Renton's show would be interesting!!!
The European Commission announce radical changes and a post Brexit political war breaks out…There's a 5000 Euro surcharge on Glenn Van Looy if your band want to import him for a contest in the UK.  Visas, green cards, a new foreign musicians performance tax, a non-Euro state member conducting levy and pay as you go camping charges for non-European adjudicators once they step inside the tent! 
Michel Barnier insists that foreign invites to bands at the British Open is increased to 50% of entries and must only be from European states. Oil prices rocket and players in Northern Ireland freely smuggle valve oil from Dublin with no border checks in place.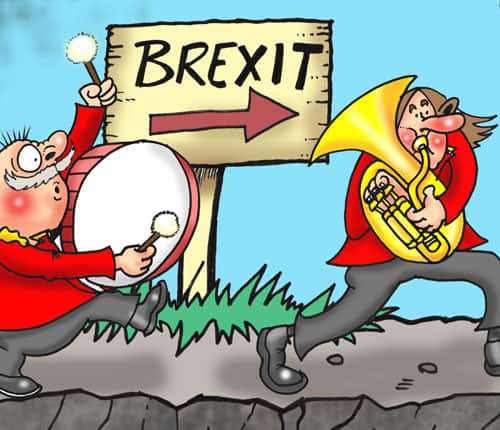 It would be far better if we get a decent deal but there is more chance of Cory being overtaken in the world rankings!  On the other hand, what happens if we stay – the question no-one seems to be asking?  Surely the effects on British Brass bands as Europe increases its influence would be fantastic. 
As everything eventually centralises to the Federal European HQ only the very best bands will be used for state occasions…Black Dyke, Brighouse, Cory and Fodens will each be given a band chateau on the continent to cope with the musical demands from the new European Chancellor.  All players will be issued with new Royal blue Federal band uniforms with a 12-star gold badge saving the bands a fortune.
Each conductor will receive an official Federal post with Ambassadors Harper, Childs, Cutt and Gray forming the European Chamber of Brass Music presided over by the Lord Keeper of the Sacred Cravat – Richard Evans.  New awards for European brass banding excellence are announced with the first recipient Gordon Higginbottom receiving an MBEE (awarded for lifetime service's promoting the mellophonium and raising awareness of the plight of the bumble bee).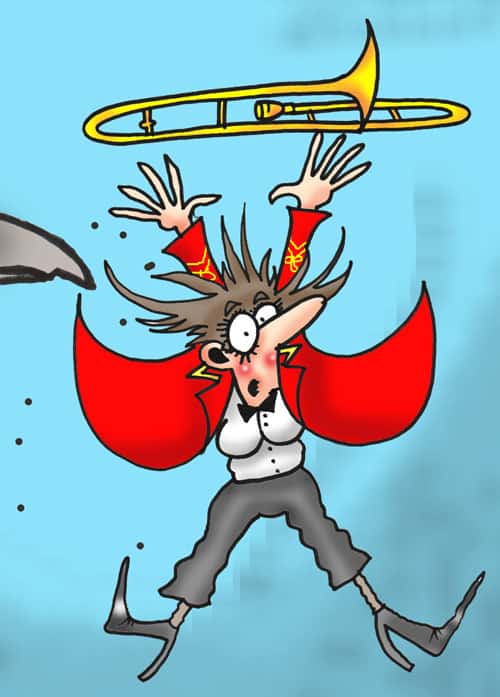 Players will be paid handsomely and achieving a degree at the RWCMD and RNCM will automatically result in a federal job! Brass band contests will be encouraged to show off the European chancellor's musical muses and every contest up and down the land will be packed.  One day over the rainbow maybe! 
The reality is that everything will plod along in brass band land as it has done for over 150 years.  Prize money in lower section contesting will still be a paltry ten quid and a blood orange. 
A snoozing pensioner with his whippet will be the sum total of the audience and bands will continue to slide out of contesting as player shortages continue to ravage the movement.  It's such a pity that our Political leaders are not brass bander's otherwise things could be so different. 
On the other hand, could you imagine if the Prime minister or the other party leaders were brass band conductors giving the pre-contest motivational talk? 
Boris Johnson: 'It's a do or die… if they don't like our performance we will prorogue the contest'.
Jeremy Corbyn: 'If we don't like the adjudicators result we'll let the audience decide'
Nicola Sturgeon: 'We will stop the contest!' 
Jo Swinson: 'We don't care what the audience think…' 
So, what is the outcome for bands after Brexit?  My guess is nowt' – we're safe for now.  Politicians will still be arguing over Brexit for the next hundred and fifty years!