Band contests
Band trips and tours
Blog
Back in the day a Mark 1 Ford Escort could get from Cardiff to Edinburgh in 5 hours.  Now, the trip to the Spring Festival takes longer than a flight from Heathrow to Las Vegas.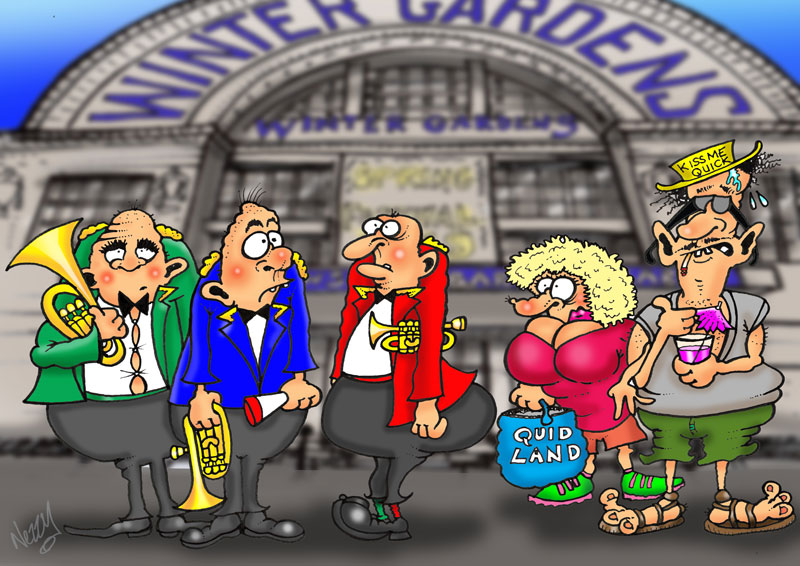 Friday rehearsal is at the band room, before setting off, as you never know what unearthly hour you will arrive.  Traffic volume, accidents, coach driver tachograph stops and the 'let's dig up the road for a laugh brigade' all add to the misery.  And my favourite…whoever designed the merging motorway system at Birmingham ought to be given a fair trial and hung!
The bus experience is a real treat.  Our baritone player provided a quiz last time which I believe he downloaded from the Cambridge University PhD entrance exam web site.  Every team on the coach achieved a score lower than a UK entry at a Eurovision Song Contest. 
Then there's the bingo…Pass me the razor blades.  The most entertaining thing on our last epic journey was a band member who had lost the plot at a motorway service station.  They were not amused after being barked at over a tannoy for having a quick smoke…on the petrol station forecourt. 
This year my band is staying a spittoon throw from the Winter Gardens.  A traditional Blackpool hotel complete with a dagger eyed landlady.  You can tell she's the landlady by the tattoos of her regiment and the ability to x-ray your very soul with a single glance.
My first thought will not be how to get in but how to get out of the hotel (ex- firefighter phobia).  Some old Blackpool hotels are veritable rabbit warrens and evacuating for a fire alarm at 3am in your underpants needs a bit of preplanning. My next thought at this very late hour on the Friday will be food.  Like New York – Blackpool never sleeps and there is fodder to be had everywhere. 
The smell of chip fat with a hint of donkey hangs in the air and you only have to walk 50 yards in any direction for a kebab.  Fed and watered – it's off to bed in the Hotel Horrifique to scratch yourself to sleep.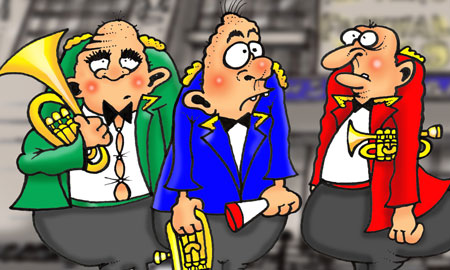 We have a 'second half' draw this year – yippee! A lie in, leisurely breakfast and avoiding the dreaded number 1 draw. A 'first half' draw is deadly with a dawn rehearsal full of lipless zombies, Suited and booted in a red-hot hotel function room straight after a breakfast that went down in lumps. Too early to be on a stage.  Early bar, early oblivion and on the homeward journey a skull that feels like an axe is embedded in it.
Participating in this contest is a strange one.  First you change in a barn and smile with the utmost insincerity at the many surrounding rival bands before being marched through sweaty walkways to registration.  Last year I had the pleasure of the Spanish hall – an echo chamber with scaffolding.  This year it's the ballroom which looks magnificent on Google images…we shall see! 
Thankfully it's not the pavilion where you are entombed in curtains and you can feel the breath of the audience.  Within 20 minutes (or 9 minutes 10 seconds if you are playing Symphonic Music in the Senior Cup) it's all done and dusted.  You don't drink the first pint as it evaporates on your tongue.  The second and third don't touch the sides and by the time the fourth is down the hatch your adrenaline fuelled body and elevated pulse rate assist you to a semi pickled state.
After the results it's time to celebrate, commiserate or just be thankful you haven't been demoted.  You stagger back to the hotel to spruce up and old dagger eyes in reception gives you a Medusa look as she cracks her knuckles. You are so hungry that a goat between two bread vans won't be enough. A band curry with a million poppadum's and molto 'sides' is just the ticket with an ice cream or sandyfloss (spelling correct due to howling wind off the Irish Sea) to finish off.
Seriously Blackpool is a great experience…incarceration on a coach, dodgy hotels, culinary delights to shred the most hardened stomach but all worth it to reach the holy grail…The British Open.
Post Script…What actually happened at Blackpool!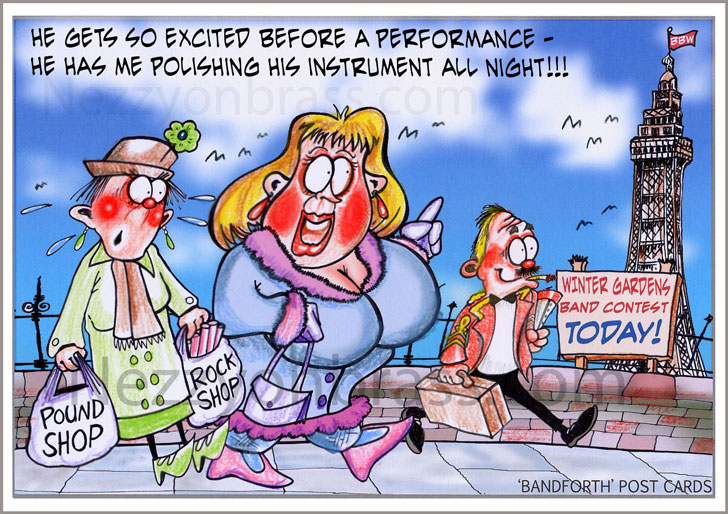 The Blackpool dust has nearly settled and I wasn't far out in my estimation of our annual trek to the Mecca of the north.  Rehearsal in the bandroom just off the M4 in Cardiff leaving for Blackpool at 6.30pm.  Quiz on the way that required an IQ of 200+ and eventually arriving at the hotel just after midnight after a lengthy road closure diversion (no surprises there!).  
The landlady was very nice which was unusual!  Hotel was as expected with a four storey stair carpet that looked like Michael Flatly had danced up and down it in crampons.  The bedroom (a coffin with a windscreen) was a joy to behold with an aroma of paint, fags, booze and something that nearly takes you head off.  You'll know the stench…if you have ever stuck your nose into a freshly emptied wheely bin. 

I chose the right hand bed which had every bedspring carving into my back. My unfortunate room mate, our third man on the front cornet bench, took the left.  When he arose in the morning he discovered that an unidentified bird (possibly a pigeon), had left a deposit on the bottom sheet! (true). 
The walls were so paper thin the I couldn't get to sleep because the bus quizmaster in the next room decided to have a lengthy monologue until 2.30 am.  Eventually scratched myself to sleep at around 3.30  but awoken at 4pm by seagulls outside the bedroom window.  Breakfast at 7.30 with egg bacon and possibly sausage which I believe contained goat. As a paranoid ex-fire fighter and current fire risk assessor I noted the multitude of fire safety contraventions and wondered how on earth this place was allowed to remain open???
On the plus side it was only £30 a night…but it would have been beneficial to have had a quick dab of 'Front Line' on the back of the neck. 
For the first time ever I attended the draw which was very interesting and more nerve racking than sitting on the stage! The contest itself went as expected with the customary insincere 'good lucks' to all other bands in the same section and the ballroom was actually the best experience of the weekend – nice acoustic to play in – bit boomy for the listeners and really classy looking with more gold leaf on the ceiling than Buckingham Palace!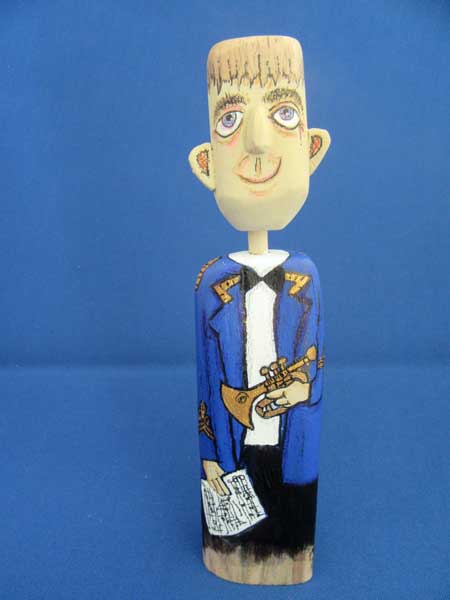 Our senior Eb Bass player told me of a 'great' pub with great beer called either Tatty Paddy's, Bedraggled O'Riley's or was it Scruffy Murphy's? – I can't quite recall. He was right about the beer.  As we arrived there was, what could only be described as a inebriated man of the road with an evil looking dog (same breed as Bulls Eye' owned by Bill Sykes in the film Oliver except this one looked like it wanted to kill someone) on the end of a 40 foot leash. 
The man was seated next to the pub door outside while the brute of a dog was darting in and out of the bar causing absolute havoc as it tangled the lead around several customers legs.  There was also a 'turn' inside the pub – a duo singing and playing electric guitars so loud it made your ears bleed. We promptly departed – pity as it did look a decent bar if it wasn't for the four legged fiend and the Decibel Brothers!
As I sat outside with one eye on my pint and the other on Bullseyes evil brother I considered my options and decided the hotel bed would not torture me again and promptly scrounged a lift home from our conductor.
As my lift passed through the outskirts of Blackpool, on our four and a half hour trek back to Cardiff, I did feel some remorse for leaving my fellow banders' to face the hotel without me.  That remorse lasted for about another 100 yards and was soon a distant memory until Sunday morning. I woke up in my own bed knowing they were still lying on a bed of nails, with the mother of all hangovers and a 200 mile trip home on the coach ahead of them…happy days!