Blog
banding trouble
halloween
Willie Wag, the conductor of Blesses o' th' Shed band, thumbed through the hymn book, looking for inspiration, but with empty seats and another resignation on the horizon, inspiration was in short supply as banding trouble loomed.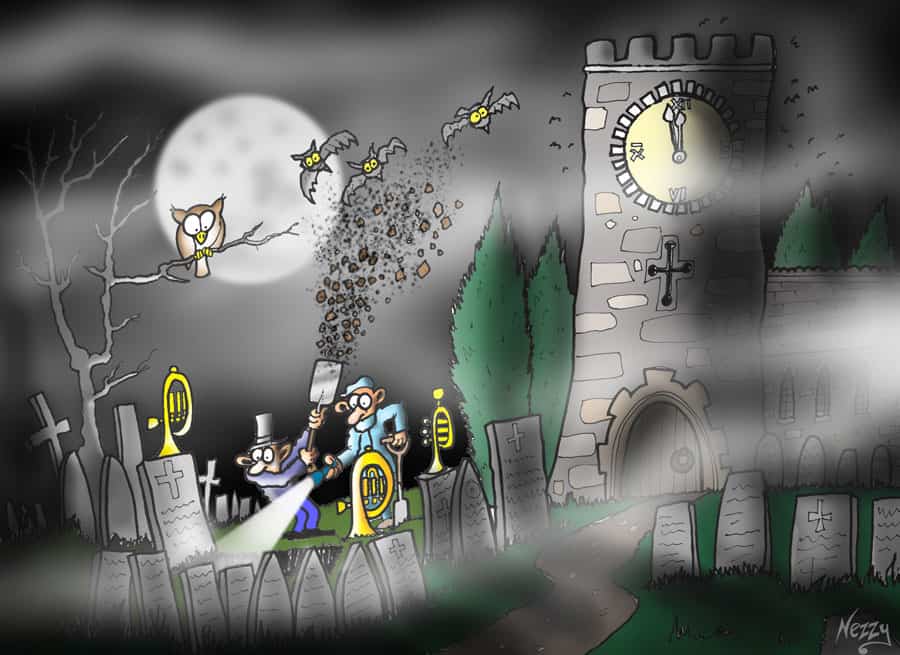 Several adverts produced one applicant. A one armed, ninety-seven-year-old trombonist who fell asleep halfway through his audition performance of the Acrobat. Either they needed divine intervention or something illegal to stop the trickle of players leaving becoming a torrent of bye-byes. The local rival, Grimdyke Silver, sneaked into second place at the area finals for a place at the Royal Albert Hall and their conductor, the Grimdyke reaper, having approached every soloist in the band had poached five players from Blesses.
That night Willie Wag slept fitfully, dreaming of glorious banding times past when test pieces didn't look like a murmuration of starlings above Blackpool's north pier. When there was the luxury of being able to sack a player like a dog knowing that the seat would be filled by the next rehearsal and when stand up solos for baritone players hadn't been invented.
At the next rehearsal, three new signings miraculously appeared. Two Scottish cornet players, Dick Burke and Harry Hare and a young medical student, Tom Frankenstein, filling the vacant trombone seat…things were looking up!
At the next rehearsal on Halloween, more players had been poached from Blesses, leaving more empty chairs. "Fear not," said Charlie. "We have a plan," he said, pointing to the other two new signings. Later that night at the site of a fresh grave in the churchyard of 'Blesses the bewildered', two silhouetted figures stood out in the mist, shrouded moonlight as the church clock whirred into gear to chime midnight.

The corpse from the grave was loaded onto a wooden cart and trundled away to Charlie Frankenstein's makeshift laboratory. Six hours later, fitted with a new brain, enhanced with the talents and skills of several living brass band celebrities, the corpse came to life as half a million volts from a lightning strike surged through its body. The three companions held their breath and watched in wonder as its eyes opened. A perfect banding specimen.
It reached out and picked up a cornet from the end of the bench and played Napoli, perfectly, from start to finish. "Sounds just like Mark Wilkinson," said Burke. "That's because I programmed Wilkinson's brain waves into my creation," said Frankenstein.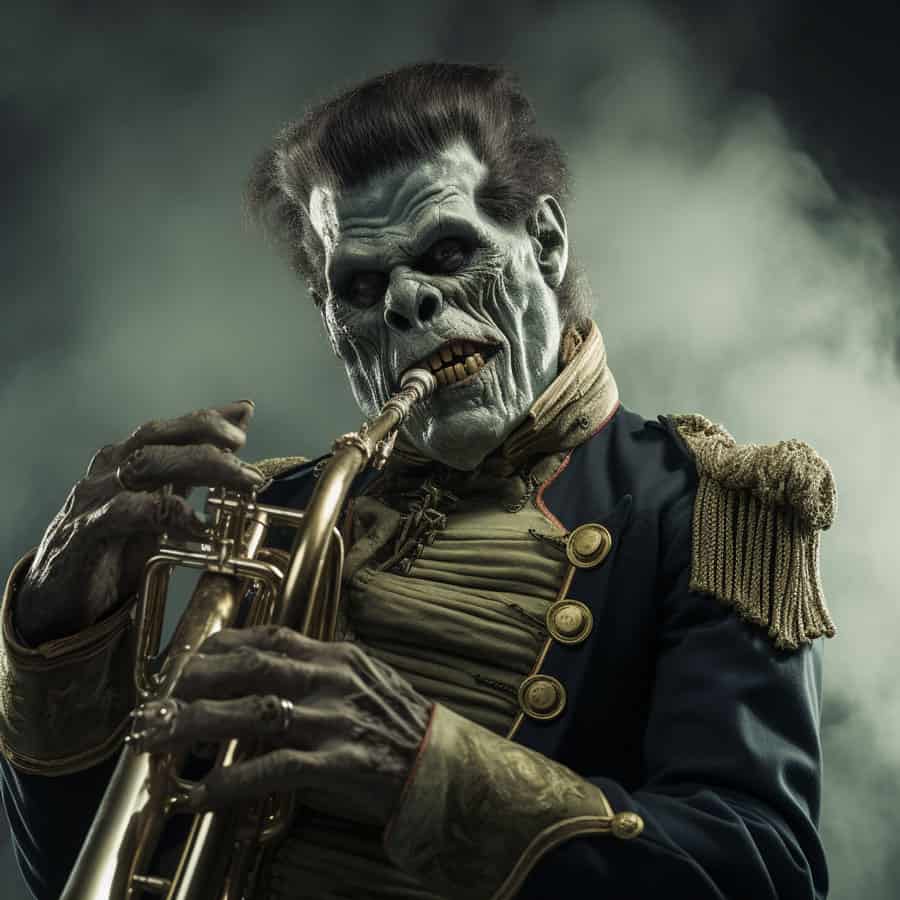 Then it took a tenor horn and played the Strauss horn concerto so beautifully it made Harry Hare cry. "Sounds just like Owen Farr," said Burke. Frankenstein nodded. "It's his brainwaves controlling my creation."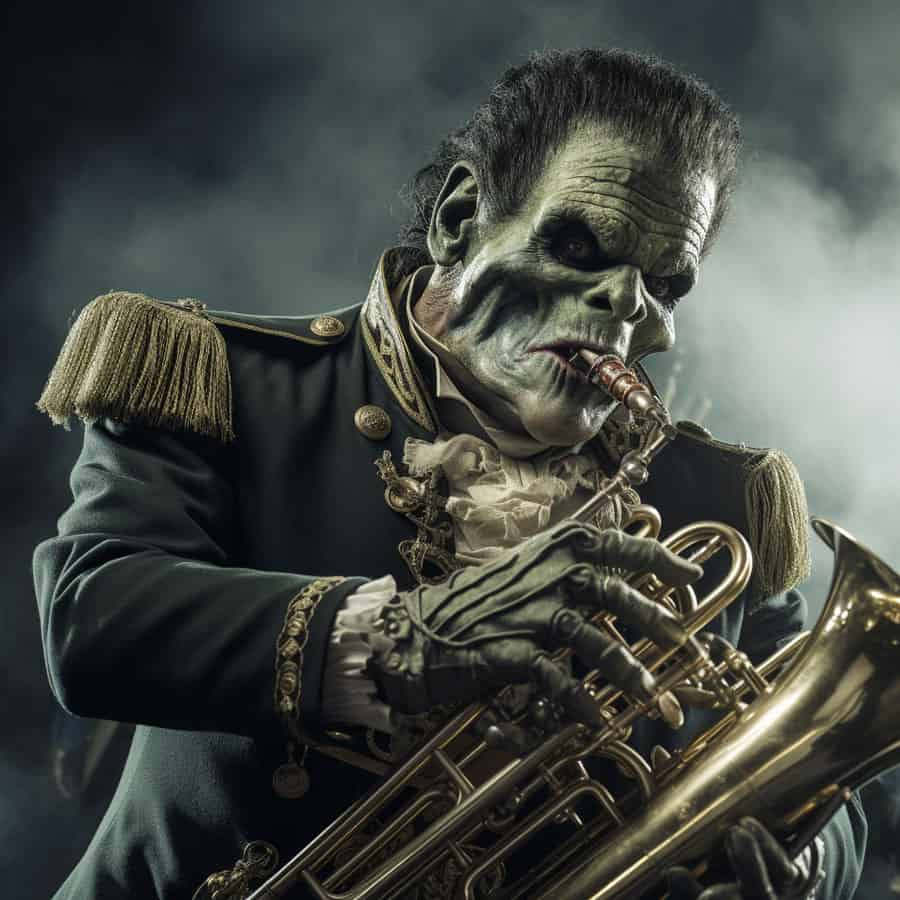 Finally, it dragged a euphonium out of its case, giving a flawless version of carnival of Venice with added stratospheric notes and triple octave jumps. "David Childs?" Frankenstein nodded with a smug grin.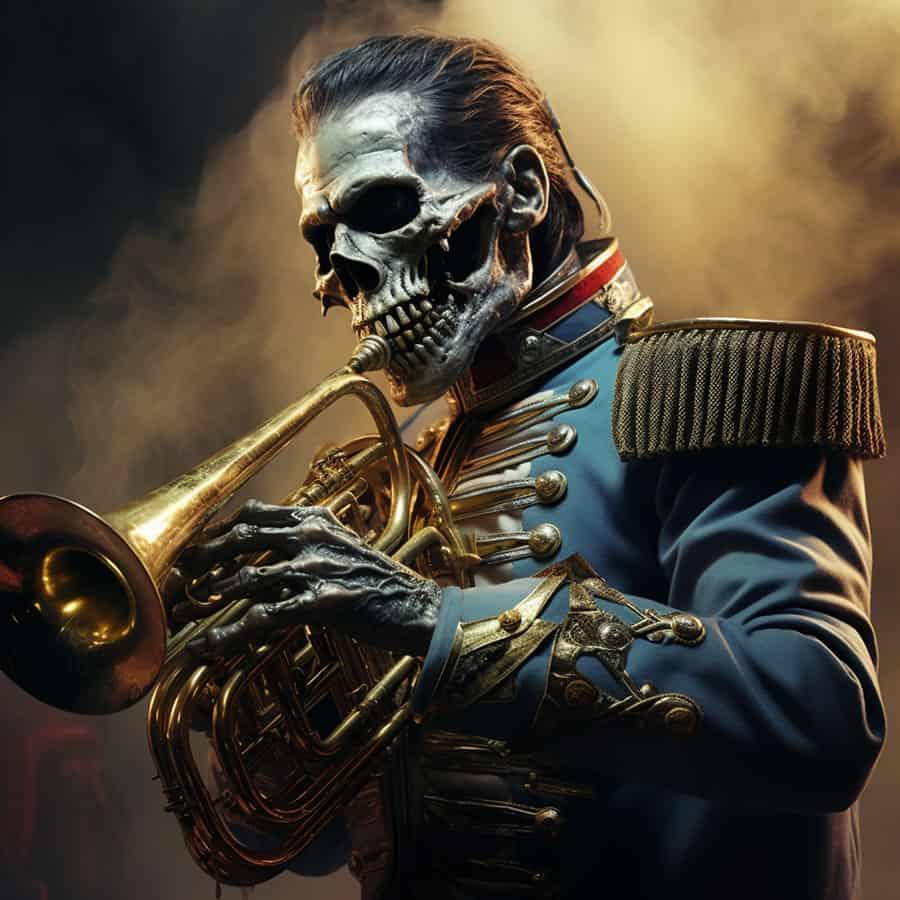 The grave robbers continued their dastardly work until every seat in the band was filled with virtuoso players. At the next rehearsal Willie Wag raised the baton expecting perfection and although the band sounded better, something wasn't quite right. The loyal core of players, who hadn't been poached sounded amateurish compared to Frankenstein's wonderfully talented creations. One by one, the conductor sacked each of the loyal band folk until only Tom, Dick and Harry remained and then they were dismissed after Willie tricked them into creating a backup team of grave robbed deps to replace them. A foolish move as more banding trouble lurked in the shadows of the band room.
But ego's crept in. The band of the living dead started arguing amongst themselves. Cornets began bitching about who should be principal. Euph's scrapped for the end chair and three horns rolled around punching, kicking and scratching at each other's eyes for the right to play solo's.
The final straw of wag's banding trouble came when one of the spare deps, fed up with being left out, ripped the baton from Willie's hand. The band took a vote, and poor old Willie Wag was shown the door. Inevitably, the band of superstars, all looking for better things, lasted a week until they drifted off to top flight bands with winning history and plenty of cash. Is the moral of this sad tale about retaining loyalty, camaraderie and friendship?
Nope! It's simple – never give a corpse ambition!