Blog
"One good thing about music, when it hits you, you feel no pain." ― Bob Marley.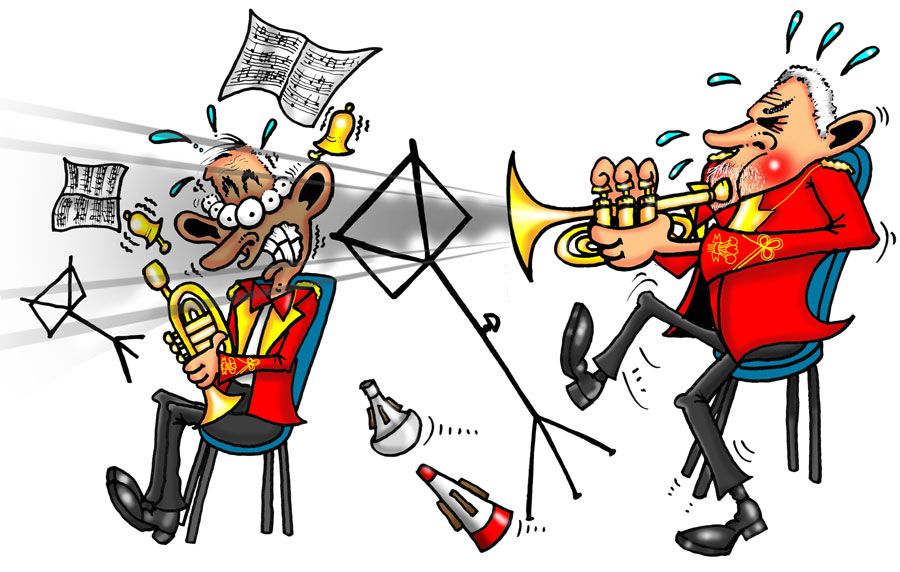 Obviously, Bob had never had the pleasure of 'Jamming' with a brass band.  Having played a brass instrument since Geoff Hurst scored his famous hat trick, I have felt plenty of pain.  The pain of having ears shot blasted through decades of rehearsals and performances. 
The worst seats in the band for ear damage are principle cornet and flugel.  The end seat on the cornet bench can be an out of body experience when there the soprano, with a decent set of lungs, is on a mission. 
If the flugel sits on the wrong side of the horns with left ear in the direct firing line of that Tasmanian devil that is the bass trombone it's a one-way trip to the Otolaryngologist.  I have been in that position for many years and have tinnitus in that very ear. 
So, what is a safe noise level?  Well…the law states…The level at which employers must assess the risk to workers' health and provide them with information and training is now 80 decibels.    80 DECIBELS! – You are having a giraffe! 
In banding terms that is 61 in the red books – the beginning of the National Anthem which crescendos to an unhealthy 110 decibels.  Number 136 in the red book lifts to a tumultuous ff in the Chorus – 'See (but not hear much) amid The Winter Snow'.  This has ears ringing at well over 130 decibels!  When we are in full flight on a test piece like Blitz or maybe that absolute lip bender Wagner's Die Meistersinger, it's enough to make one's stirrup, anvil and cochlea leap out of one's lugholes.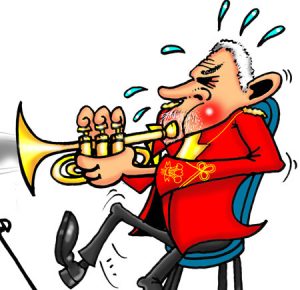 What can we do to protect ourselves?  On a recent visit to the Cory Band HQ I noted a strange attachment never seen before. A substantial Perspex baffle between Steve Stewarts soprano stand and the tender ears of Tom Hutchinson in front.
I have had the pleasure of hearing Steve's amazing volumous sound on several occasions and If I were principle cornet of Cory (one day over the rainbow!!!) 
I would be constructing something a little more substantial. A 3" x 4" wooden frame with two layers of half inch, foil back plasterboard with a daub and wattle filling would be a little more effective.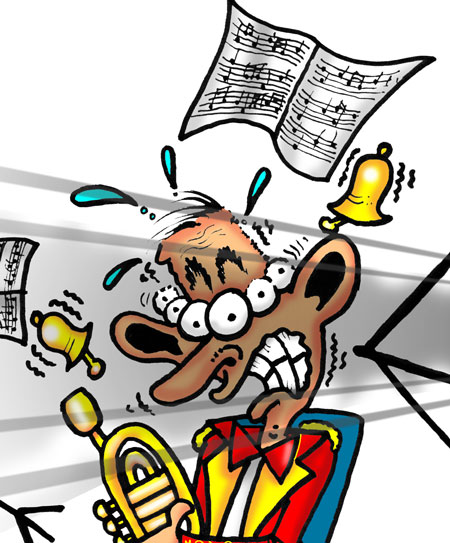 There are earplugs designed specifically for musicians and I am on the verge of making a purchase.  The bass trombone in my own City of Cardiff Band can almost shred his part off the stand and I need to take care of the left ear which rings like an extremely nervous bell tree, even hours after rehearsal has finished.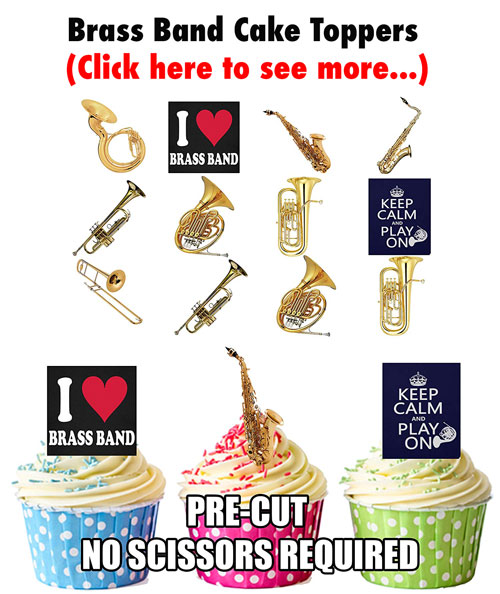 I have tried the miserly option of inserting those disgusting foam ear plugs. But, you lose all sense of dynamics and the subtleties of Elgar's Nimrod can sound like a Hawker Siddley Nimrod during low level flight training.
I could ask to be moved but, in the end, someone will have to sit in the firing line.  The solution is to be found in a four-way choice.  Give up banding, go on a different instrument, go deaf or buy some earplugs.  The first three options were quickly discarded. 
I can't give it up. I am not going on cornet or Eb Bass…It took long enough to get a flugel position which are currently as rare as an agreement in Westminster and I don't relish playing and having an ear trumpet at the same time. At £150 for a set of 'Custom Noise Limiting Aural Devices' I'm sorted.
I have no doubt that if we stay in the Eurozone some do-gooder political health and safety fanatic will get us all in the end.  Can you imagine the result? 
Picture this.   All new instruments to have volume limiting devices to EN standards and until every instrument fully complies all players without adapted instruments will sit a regulation six feet apart from the nearest player.  Composers are banned from adding dynamics over mf and crescendos carry a high tariff.  Percussion is revoked. Conductors cannot ask for more volume and audiences are not permitted to applaud, whoop or whistle.
Look on the bright side…you can only go deaf once!
Appeared in the satirical article 'And Another Thing' written and illustrated by Rob Nesbitt (Nezzy) in Brass Band World Magazine April edition 2019
You can now get Brass Band World Magazine in digital format for your Desktop Tablet and phone. For more details and subscription rates check out Brass Band World Magazine on digital subscription
Has your band been hacked by poachers?…