Blog
Since you were knee-high to a timp' stick you have worked your little socks off, practicing, progressing through the ranks to perhaps one day gracing the stage of the Birmingham Symphony Hall or the Royal Albert Hall.   As banding life progresses you meet someone special and at that point in your banding career, you seriously need to beware!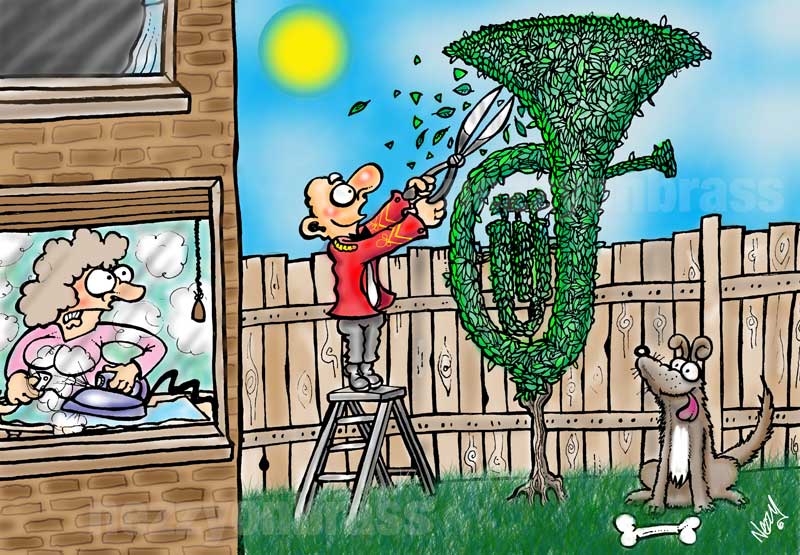 Being a committed brass bander takes some doing especially if you are married or have a partner.  If you are single it's a piece of cake as you can go as you please without the wrath of the 'other half'.
The best thing to do is to team up with another band minded person, ideally a player.  Someone who understands why you have to spend 14 nights in the band room before a major contest.  Someone who doesn't throw their toys out of the pram when the conductor calls a sectional at the drop of a hat.  That someone should be a believer!
Believers love everything brass band.  A believer can sit through a whole contest enjoying every minute and can't wait for the next one.  A believer will travel thousands of miles a year, faithfully attending rehearsals, foregoing all others just to be in the band.
The non-believers or 'Buggles' are devoid of any banding magic in their blood. Buggles believe that band folk are radicalized idiots who need therapy. They cannot understand why we believers think it's life or death to win the next contest.  Buggles should be avoided at all cost. 
First question for a prospective soul mate…
"What band are you in?"
If they have never stepped into a band room or have no family connection with a brass band they should be cast aside like a scurvy dog.  Don't be fooled or blinded by their beauty or handsome smile.  Do not be enticed by their beguiling charm and wit for they will eventually deprive you of your true love. 
As they flutter their eyelids and whisper sweet nothings in your ear, project your mind to the future, past the 'for better or worse' and 'I do's' to that point of no return.  Once you have signed the ultimate registration form they know they have you under their Buggling control! 
It begins with playfully hinting that you miss a rehearsal here or a park job there.  After a while, they will really get their claws out.  Openly complaining as you go to rehearsals.  Protesting they are being neglected just before the British Open.  Moaning that they have not seen you for a month before the National. 
It's all psychological pressure to break you and ultimately rip your musical soul from the mouthpiece.  If you have an extremely domineering partner it can all end up in tears – Yours! –  as you part company with your banding family to be with him or her indoors.
After several years they realise that having you around all the time was not such a good idea and the hypocrisy of it all unravels.  It starts with a not so subtle hint using a third party.
"I was in the Coop and Fred from the band was asking how you are and when are you coming back.  I think they need you to go back."
   You are actually grateful and have been conned by the scheming Buggle once more. But it has been so long since you picked up an instrument.  Your lip takes months to get back to anywhere near its former glory.  Your position in the band has taken a backward leap and you find yourself on the back row looking up the line at your old seat now occupied by a highly talented student younger than your own kids.
Your other half sits at home glued to the X Factor shoveling a Big Mac and several glasses of Prosecco or a gallon of scrumpy down their throat and you are back where you should be.  But all those lost years of banding!  The test pieces are now ridiculously difficult and everyone around you seems to take every gazillion hemi-demi-semi-quavers in their stride. 
So be afraid…be very afraid! if you are teetering on the verge of marital bliss look your prospective partner squarely in the eye and ask them if they love you…and the Arban!
Appeared in the satirical article 'And Another Thing' written and illustrated by Rob Nesbitt (Nezzy) in Brass Band World Magazine July/ August edition 2018
You can now get Brass Band World Magazine in digital format for your Desktop Tablet and phone. For more details and subscription rates check out Brass Band World Magazine on digital subscription