Blog
Musical Gifts
Stand and stage lighting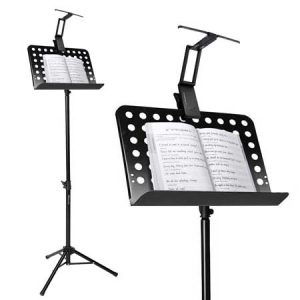 Adequate illumination is essential so you can concentrate on playing – not trying to see! The best music stand light is simply one that clearly lights up the dots and clips easily to the stand.
If like me you are over the optical hill seeing the dots on the music sheet can be a real challenge.  It gets worse when the lighting is low or there's that insipid strip lighting that a lot of bandrooms have.
Here are 5 top rated music stand clip on lights for you to consider…
TGI Music Stand Lamp
This 'strip LED light' provides enough light to easily illuminate two pages with 9 LED heads and two power setting to adapt to varied lighting.  There is a good strong clip to attach to your stand and the strip format allows for a nice uniform distribution of light accorss the 'dots'.
Two AA batteries are required and is also supplied with an AC power adaptor to save batteries

Adam Hall Professional Dual LED Light for Music Sheet Stands/Reading Lamp
Dual LED lighting unit for sheet music stands with a long operating time due to efficient LED lamps.  
The unit is battery operated and come with 3AAA batteries. It has 4 individual LEDs that can be switched individually between 2 brightness levels. 
The powerful light cone also features  flexible gooseneck stems which can be manipulated to provide light where you want it.
With over 70 customer ratings giving an unbeatable 5 star average on Amazon you cannot go far wrong with this stand light.


LEPOWER- Best Music Stand light /Desk light / Reading Lights / Clip on Bed Light
This versatile duel headed music stand light lamp simply clips onto your stand and with one click illuminates your music.
Each lamp has adjustable arms that can be bent into any shape to reach any type of part.
Small compact powered by 3 x AAA batteries (not included0 or via a USB (cable provided).  Great for music stands, reading, craft projects, speech reading and more.
One year warranty
It has the most positive  feedback in this review of  over 100 happy Amazon customer giving an average 4.5 star rating.

4 LED Book Light, Ipow Rechargeable Music Stand Light Lamp
There are two light settings to illuminate either one or two of the LED bulb heads in each light. This dual headed stand light is fitted with a long lasting lithium rechareable batterey (4 hour recharge time- USB lead included).
On the high setting the unit illuminates for up to 6 hours and 12 hours on the low setting – plenty of light for any concert or rehearsal (or both!).
The light has a sturdy clip to attach to a stand, desk, book or bedhead. Two lights on goosenecks can be easilily manouvered to provide intense or flat light to your requirement.
Light and easy to fold up this takes up little space in your instrument case.

Mugig Music stand Light – Piano Light – Stage Light
This dual headed stand light folds into a neat little package. easy to store in your music case or pocket.
It is fitted with a recharcheable battery that will provide up to 6 hours lighting on a 3.5 hour charge.
There are two brightness settings operated from a side switch.  100% brightness mode. In day light or strong ambient lighting. 20% mode for night light or low ambient lighting levels.
This neat little unit automatically switches itself off when folded and has a red indicator light when the power supply is running low.
This can be used on music stands, piano light, as a stage light, book light etc.

So which is the Best Music Stand Light For You?
The featured lights are all basically the same as the clip onto the stand and provide light!  The choice can be influenced by the type of music that you are looking at and how your eyes react in different lighting levels.
If you want an even spread of light over the dots either the Mugig Music stand Light has the edge and folds up neatly for carrying.
If you need to constantly alter your lighting, such as from full page to march card or hymn book a more flexible lighting unit may be the favoured choice. We would recommend the 4 LED Book Light, Ipow Rechargeable Music Stand Light Lamp as it is highly flexible, with good lamp duration and a rechargeable battery.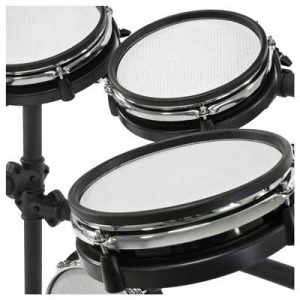 Want to keep the neighbours and rest of your family happy while you practice your percussion parts?  
Why not invest in an electronic drum kit that can be either at full blast or through headphones!  See the review here…