Blog
One cold Christmas Eve in the band room the central heating has been turned off and icicles hang off the noses of every player.  Eb Scrooge, the band's conductor has insisted on a rehearsal for the forthcoming area and not a Christmas carol in sight.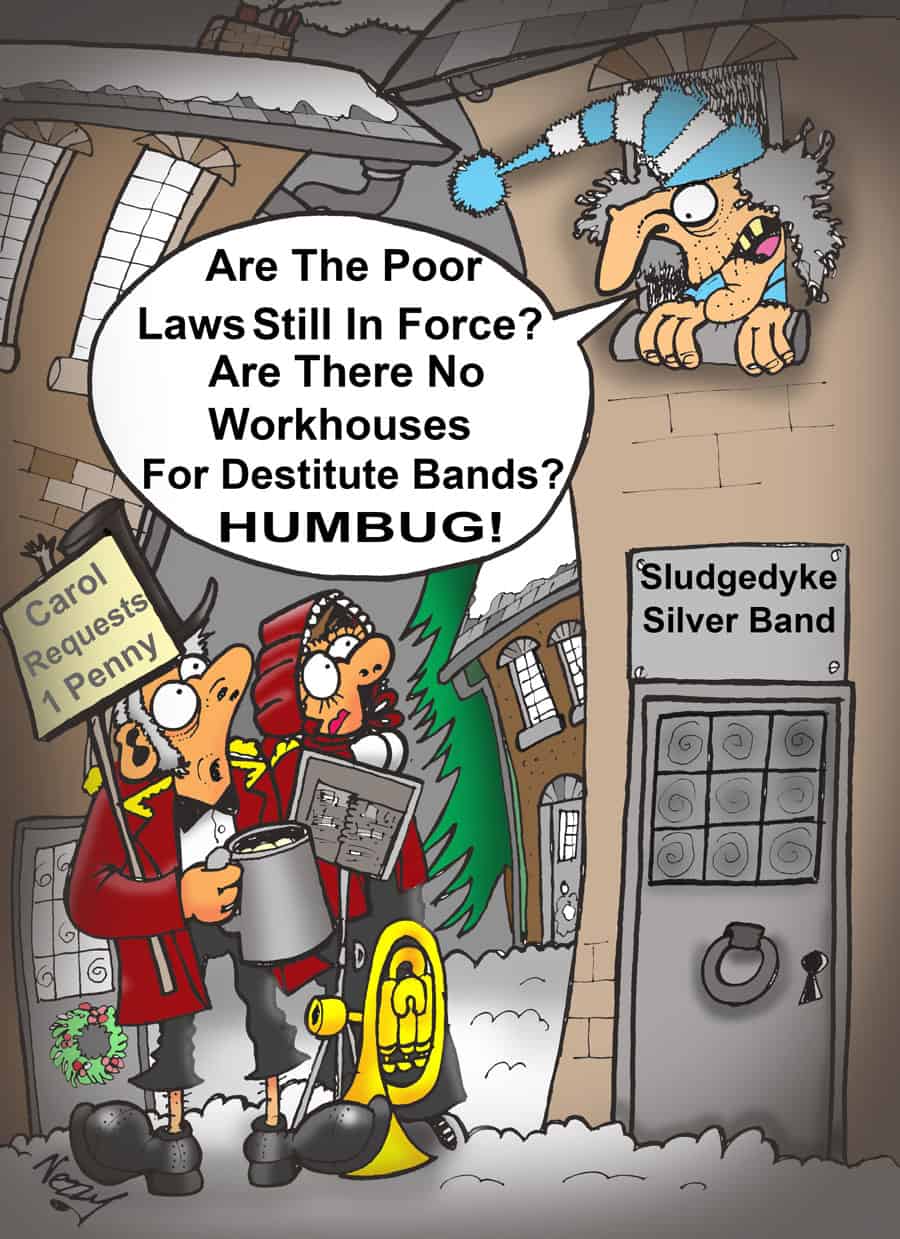 Bob Crochet, principal cornet, pleads on behalf of the shivering band members for Christmas Day off without band rehearsal. The response from Scrooge is swift and uncompromising…
"Did you ever think why my predecessor Jacob Mahler never won the area?  Too soft for you miserable band of losers.  Have the day off if you must. But…. I expect you to practice!  The area piece will not play itself and you lot can't sniff it yet…Humbug! 
Bob Crochet and his limping son Tiny Timp' make their way home as Scrooge watches through the frosty band library window, warming his hands from the glow of the photocopier as it spews out copies of Santa Claustraphobia – freshly borrowed.
"Day off indeed!  Our last chance to make more money carolling to pay for the reams of copy paper I need to fill the library.  Do they know how much music costs if you actually buy it?…Humbug!
Stamping illegal parts Eb Scrooge nods off.  Suddenly he is awoken by the sound of clanking valves. 
'Jacob Mahler…but you are dead!" 
"I give you a warning Scrooge, mend your banding ways.  Three spirits will visit you tonight" and with a swirl of wind chimes was gone.
At ten to midnight the gloomy band room lit up and a figure resplendent in a glowing hussar style stage uniform appeared. 
"Who are you spirit?" said Scrooge cowering under his stand.
"I am the ghost of banding past"
It  took Eb's hand and flew him to the Royal Albert Hall, through the roof, landing on a high balcony. Scrooge looked down at the packed hall. 
"I remember standing here in the 'Gods' when I was a boy".
A whistle blew and band number 19, Black Dyke Mills conducted by Major Wilcox began their winning performance of Le Roi D'ys. 
"Look – Maurice Murphy on the end and Geoffrey Witham on Euphonium." 
He looked to his left at a young boy with his father and realised it was 1959 and that boy was himself. As the magnificent Euphonium solo reached it's crescendo the spirit whisked him back to the band room and was gone. 
"I was so unhappy," Eb recalled.  My father made me practice every day.  I could have been an athlete or played for  Man U, Liverpool or even…sob!…Leicester City…but no!"
The band room lit up again and a familiar figure appeared. 
"Do I know you spirit?" Stammered Scrooge. 
"I am the ghost of banding present." In an instant they were in Bob Crochets living room. 
Tiny Timp' was crying.  "Father why do I have to keep practicing this awful book?"
"Mastering the Arban is the only way to keep Scrooge from sacking you." 
Eb felt a lump in his throat as Tiny Timp', with his defective pedal tried unsuccessfully to negotiate The Carnival of Venice. 
"Are we having a turkey for Christmas dinner Father." 
"No lad, I am afraid our conductor made me spend my last farthing on valve oil."
The spirit whisked Scrooge back to the band room.
"Are you sure I don't know you spirit", Eb Asked.
The spirit looked at him frankly "You will have heard me on Friday Nights…". The spirit began to fade (as he had done from Friday nights)…"And bye now!" 
At the stroke of midnight a dazzling light appeared and a ghastly spectre in all black walking out uniform appeared.  It said nothing but whisked him away to a graveyard and pointed a boney finger at a headstone.
Here lies Eb Scrooge no style or musical understanding…never won 'owt. Scrooge began to snivel as he was dragged back to the band room screaming 'I will change'. 
When he awoke it was Christmas morning. He bought a massive Turkey for the Crochets.   
"God bless us, Everyone!" Said Tiny Timp' Just before he and his father died of valve oil poisoning, the only thing they had to baste the turkey.
Scrooge was as good as his word and changed.  With Bob and Tiny Timp out of the way (who were rubbish players anyway)  he decided to change the front row, the committee then the basses, trombones and euphoniums sacking and replacing them all and went on to win the area. 
So, take heed – sometimes it takes a mean spirited, ruthless, M.D to win…Merry Christmas…Humbug!

Featured in Nezzy's 'And Another Thing!' article in Brass Band World Magazine December 2019. Brass band World magazine is available on subscription and on line at brassbandworld.co.uk