Blog, Musical Gifts
Five high customer rated musical pendant note and treble clef necklaces to give you ideas for the perfect musical gift!
Finding music related jewellery for yourself or as a gift for a musician can sometimes be tricky. Here are five suggestions for musically themed necklaces which may spark some ideas.  These small charm necklaces on a musical theme are accross a wide price range and have high customer ratings on Amazon.
If you want to cut to the chase check out the full selection of musical jewellery prices here…
Naava Diamond and Tanzanite Music Note in 9 Carat White Gold
This is a stunning piece of jewellery in a treble clef design.  
The gem stone is diamond/ Tanzanite with an azure blue tint.  Tanzanite is the blue/purple variety of the mineral zoisite.
The white gold  is stamped 9ct (375) and the main gemstone is 0.5 carats in a 4 claw setting.  
The pendant is carried on a  46cms belcher chain and supplied with a presentation box.
Get the latest price for the Naava Diamond and Tanzanite Music Note in 9 Carat White Gold here…
ijewellery Treble Clef Music Note Fashion Jewellery Necklace 
This is a 925 sterling silver treble clef Pendant and has a  45cm Platinum Plated box Chain Necklace
Chain Length 46cm+6cm,  

1.7cm pendant Necklace
This is a simple but elegant music design necklace.  high quality for a gift and suitable for any occasion.
Get the latest price for the ijewellery Treble Clef Necklace here…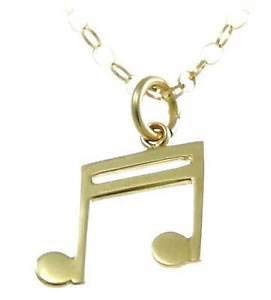 9ct Gold Semi Quaver Pendant Necklace With 18″ Gold Chain
This 9ct Yellow Gold (stamped 375) comes with an 18″ 9ct gold chain with a presentation gift box included.  The Pendant dimensions are 12x10mm.
Simple delicate design and ideal for any musician of music lover
See the latest price for the 9ct semi quaver gold pendant with 18″ gold necklace here…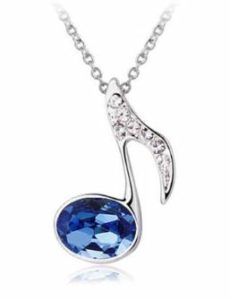 Laskey® Swarovski  Sparkling  Blue Music Note Necklace made with Austrian Crystal 
Beautiful transluscent blue Austrian Crystal using Swarovski Elements set in a quaver style pendant.
The pendant comes with a 17″ necklace.
Get the latest price for the Laskey Swarovski blue quaver pandant and necklace here…

Little Treasures – Silver Eighth Note Pendant Necklace
Smooth and brilliantly polished sterling silver quaver design pendant.
This beautiful pendant comes with an 18″ necklace.
See the latest price for the Silver Eighth Note Pendant Nexlace here…