Blog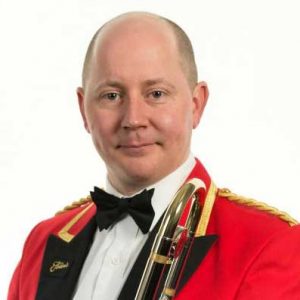 I have produced the cartoons for the monthly satirical article  'And Another Thing' in Brass band World magazine for many years, working with several talented scribes who produced the marvelous words.  
John Barber is the most recent contributor and it was an absolute pleasure to work with him as he has produced some of the quirkiest, funniest articles I have ever had the pleasure of illustrating.  
His look at the future of brass bands is a compilation of the last three articles he wrote for Brass Band Word Magazine's And Another Thing for the March, April and May editions this year (2018).
I would like to thank John for all the articles he wrote during his tenure at BBW as not only did he make it easy for me but also made me laugh out loud!
The next scribe will have a hard act to follow and I know that to be true as it just happens to be me – I will be writing and illustrating the article from June onward and I hope I do it justice!
I think you will really enjoy John Barber's trilogy of his take on the not so distant brass banding future…
Utopian banding – how things might look in 2038…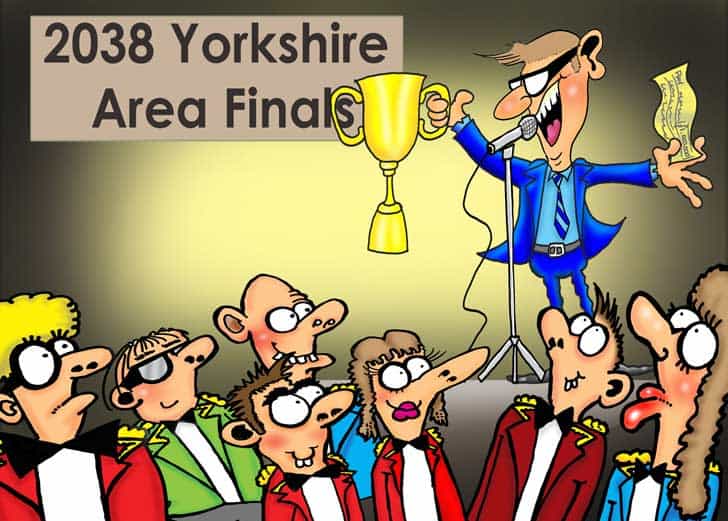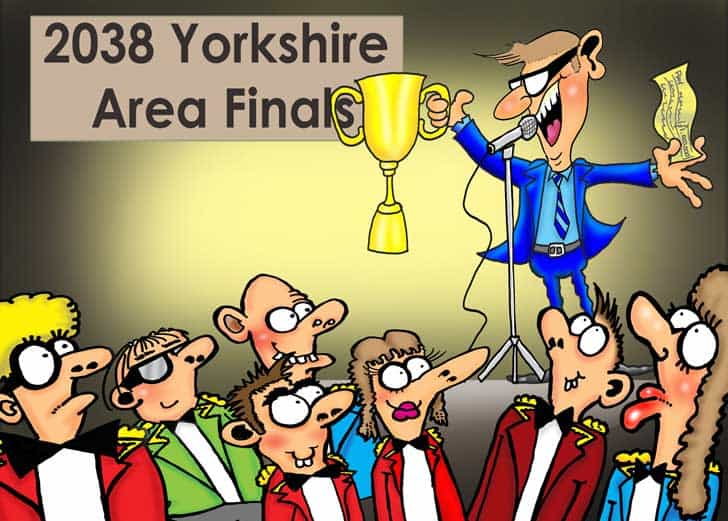 Since the rise of 'The Movement' in 2020 the Brass Banding national landscape has shifted. The days of musical ignominy resigned to the side lines of the national psyche and only to be heard on specially organised themed weekends at holiday camps alongside body building competitions and 90's Reloaded dance spectaculars are gone.
The over subscription in youth banding has caused a national crisis with the revitalised manufacturing industry struggling to keep up with the sheer volume of requests for new tenor horns, trombones and Bb Basses. Instrumental uptake has caused the production of other desirables including food mixers, cars, tin openers, drones and wheelie bins to grind to a halt.
Every school has compulsory instrumental tuition paid for by the state, half an hour per pupil per week with each school boasting a first and second tier brass band who perform monthly in a 'battle of the bands' competition at borough, regional and national level.
Obesity levels haven't dropped.
Music is at the centre of the National Curriculum with the EBacc nothing more than a distant memory, an educational vision so flawed and short sighted that it now sits confined to the history books never again to be shown the light of day.
School football has suffered significantly since the resurgence of 'The movement' with teams struggling to recruit enough players and attendance at weekly football practice significantly down. This is despite the inception of the annual national 'League of Kicks' Festival in Blackpool to which youth football teams from across the UK come together to play against each other in front of their parents and friends.
There is no radio or TV coverage present at the festival, however, the excellent carnival atmosphere is enjoyed by all who attend and whilst the on-line text commentary tries to capture the spirit of the occasion, it doesn't really reach the wider audience it once might have hoped to.
The lack of school football engagement is filtering up to the senior leagues with teams in the fourth, third, second divisions struggling to recruit players of enough quality to fill their squads resulting in some clubs again looking to Europe to fill the benches.
Finances aren't what they were though so defenders and centre forwards are having to jump on the plane, sometimes only a few days before a match, once they have been able to secure a couple of days off work from their regular day job as an IT consultant.
Understandably there has been a knock-on effect to the national football team which, due to lack of funding, coverage and an inadequate youth system has still won absolutely nothing since 1966.
Meanwhile, the brass band movement is thriving.
Funding from the state alongside corporate sponsorship has engendered a professional movement with players in Championship section moving into houses in Alderley Edge, Kensington and Chelsea.
Foden's are at No.1 in the singles chart with their dance hit 'Do the Sop Drop!' with Brighouse and Rastrick in at No.2 with their latest release 'The Chirpy Cornet'. Cory are holding onto top spot in the album chart with 'Moonshine in the Valleys' whilst Black Dyke hot on their heels with their tribute to the hits of Oasis with their release 'Cigarettes and Alcohol and the Marches of Kenneth Alford'.
The National Championships, British Open and Brass in Concert have been televised for the past nine years now with the resulting prize money, public recognition and opportunities for record deals ensuring the highest possible standards. Tickets are harder to secure than those for the Wimbledon singles final and the black market for them is rife.
Stevie Wonder, Justin Timberlake and Bruno Mars have all performed the pre-results show at the Albert Hall with more and more elaborate staging and choreography on display each year.
Adjudication is open and judges are respected for decisions, not questioned.
On the down side the Beastie Boys car badge craze from the 1980's that saw many young people ripping the badges from Volkswagen, Audi and Mercedes cars has been resurrected. Old Foden's Leyland DAF, Morris Motors truck badges are being wrenched from vehicles at Beaulieu and other car museums to be hung around the necks of today's youth as a display of loyalty to their favourite bands.
The new Saturday night ITV centrepiece show is 'The Vib' where a panel of household name banding stars listen blindfolded to wannabe banding stars of the future, only a push of a button away from making dreams come true.
This year Noel Edmunds' annual 'Christmas Presents' TV show featured some unwell children on the wards at Alder Hey Hospital, overcome with emotion as Santa peeled off his fake beard, to reveal Mark Wilkinson who promptly whipped out his cornet to, give a rendition of Miss Blue Bonnet, you could literally see the children cry.
Radio one now plays almost exclusively brass music meanwhile Cold Play, Ed Sheeran and Beyoncé can now be heard at 11.30pm Wednesday night on Radio 2.
We maybe.
Banding in 2047 – The British Empire Strikes Back…
The story so far…
In 2038 the rise of 'The Movement' provided children in every school free brass instrumental lessons leading to mass involvement in ensemble playing, community engagement a rise in literacy standards (and obesity). As the national focus centres on music rather than football, the beautiful game has slid into the bottom tier of the international rankings, with competitive matches now scheduled against Monserrat, Djibouti and Guam.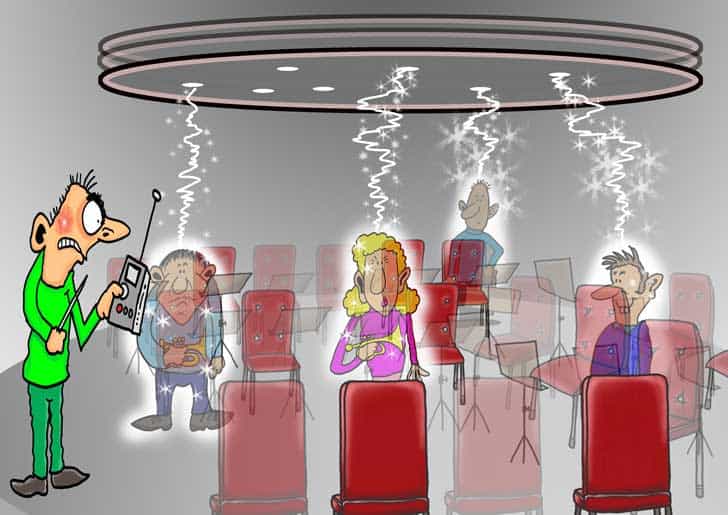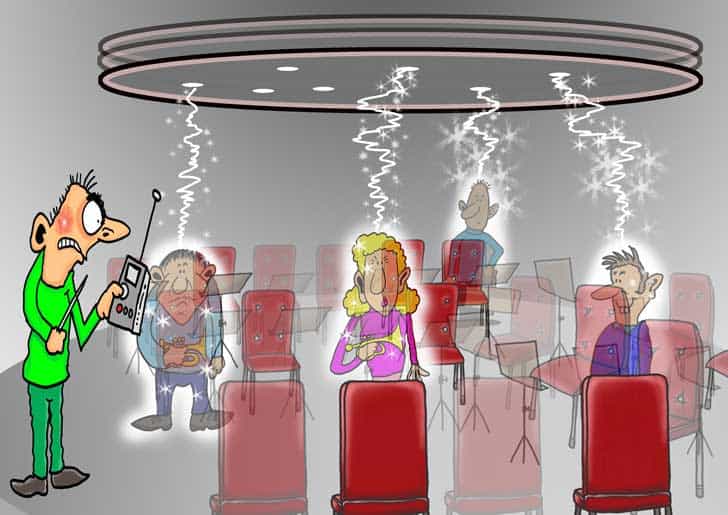 Results are not good and following a dramatic last-minute loss to the Turks and Caicos Islands at England's home stadium, Gresty Road, Crewe (Wembley was pulled down in protest following the failure to score a point the 2042 world cup qualifiers), the sporting nation is a breaking point.
In a political coup, former England and Manchester United star and leader of the British Empire Party Dwayne Clooney is installed as Prime minister and is heard to say "Like, it's not on like. 80 years ago, we won a big shiny cup but now we can't even beat Maserati, Ya Beauty or Gum, and now we've lost to the Trucks and Cakes Off Islands. Sommit' has to change. If we spent as much time kicking a ball around as we do blowing trumpets we could be great again.
I reckon we could even give Papa new Guinness a game".
Taking this as change in Primary Legislation, Chancellor of the Exchequer Don Barnes and Education Secretary Pauls Goals announce that brass instrumental lesson funding is to be ceased immediately with all children ordered to hand in their instruments to the nearest recycling centre or Rag 'n' Bone man. Music is to be stop being taught in schools and, along with Art, Drama and "other namby pamby subjects" replaced with "three hours of footie".
"Buzzin'"
The Brass Band movement is up in arms over the decision and as schools stop making music, protest marches are organised up and down the land in every town and city. Thousands of bands people let their voices and baritones be heard but sadly to no avail. Feeling like a bear being goaded with a fairly sharp stick, Dwayne Clooney makes a statement warning brass bands against further demonstrations "Stop it like. I don't like it when yous does that. If you keep on there'll be trouble like".
Undeterred by the threat, protest marches continue, however over the next 12 months, the fortunes of the national football team don't change and following a howling 7-0 spanking at home to Chinese Taipei, things took a significant turn for the worse.
As he saw it, Prime Minister Clooney was being constantly undermined by the brass band movement. Whilst the national team, nay, HIS national team struggled, 'The Movement' laughed and mocked him on their marches, making up clever little songs including 'Dwyane, Dwyane, where's your brain?' and 'You couldn't kick a ball if it was as big as your toupee'
He'd cancelled the broadcast of Saturday night flagship programme 'The Vib' but still, they marched.
He'd reduced the air play of brass bands on national radio (they now only got 30 minutes on a Wednesday evening…) yet still, they marched.
Enough was enough.
An order was issued to raid the offices of the British Brass Band Registry to seize all documentation.
Names and photographs of all people registered to a brass band were collected.
Banders were rounded up, their instruments destroyed and, following a trial for the charge of State Subversion, sent to prison for a term as yet undetermined.
It started on June 1st 2048. A day that would forever be known as 'Brass Banned Day'.
First, they came for the percussionists, but no one spoke out.
Then they came for the Bb basses, but no one spoke out (mostly because no one knew any).
Some say that when they came for the horns there was a small cheer.
Then they came for the baritones but no one admitted playing them so some escaped.
Through a small twist of fortune, some of the photographs on the out-dated registry 'library' cards bore no resemblance to the players they were attached to, so some managed to escape capture by feigning membership, but for many, the writing was on the wall.
In towns up and down the country, the ceremonial burning of brass band uniforms and the melting of brass instruments took place, overseen by British Empire officials, decked out in their resplendent football attire. Communities were instructed to attend the fire, to witness the cleansing, to appreciate the proactive steps that the British Empire Party were actioning.
Those that weren't rounded up following the raid on the registry went into hiding.
Resistance communities gathered in the forests, reflecting on the seismic change of the previous 18 months. Together they survived in the wilderness, played their music, taught their children and attended lectures from their elders and resistance leaders Childs, King and Harper.
None of them knew what the future held, only that they had been wronged and denied their love of brass band music. They had to bide their time, to wait, to grow in number and then one day, when the opportunity arose, plan a return that would see the downfall of the British Empire Party forever.
Brass Banding in 2051- The Last Post
The story so far…
The rise of 'The Movement' in 2038 led to every school child receiving free brass instrumental lessons. However, following years of centralised funding focused on music rather than football, the Three Lions slipped into international obscurity resulting in the leader of the British Empire Party and former Manchester United forward Dwayne Clooney, being appointed as Prime minister. His Education Secretary, Pauls Goals, immediately stopped all funding for brass lessons (along with Art, Drama and other 'namby pamby' subjects) in schools and replaced it with "three hours of footie".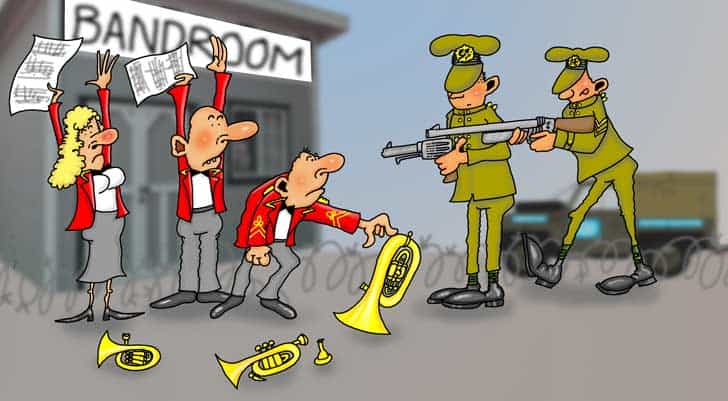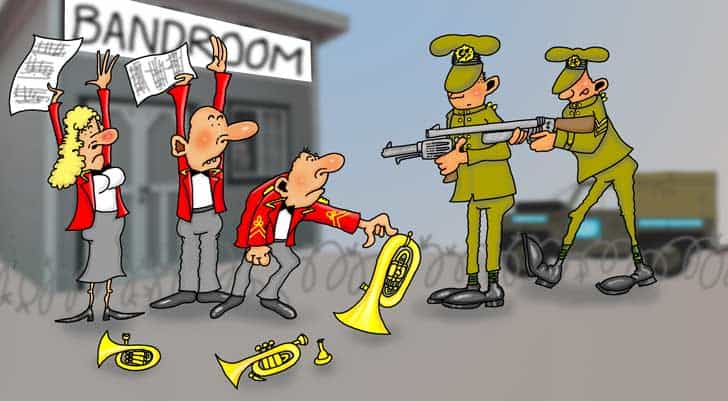 Following nationwide marches and protests, the British Empire Party issued an order to raid the offices of the British Brass Band Registry where all documentation was seized. Banders were rounded up, their instruments destroyed and, following a trial for state subversion, sent to prison for an undetermined sentence.
Despite the national purge, a small group of Resistance Banders managed to evade capture (mostly because they looked nothing like the photo on their registry card) and formed a small community in a forest in the Cotswolds, cut off from society, resigned to an existence of foraging for food, occupying themselves with games involving leaves and sticks and having a limited wardrobe of a walking out uniform and a pair of lucky contest pants.
Life was proving difficult. The diet of nuts and berries wasn't to everyone's taste and many were going to bed hungry. Desperately trying to sleep on their mattresses stuffed with shredded photocopies of 'Light Walk' and other Brass Band 'Swing' charts, the Resistance Banders dreamt of halcyon days, a time when things were simpler, when their breed was understood, nay even appreciated.
Once they'd had it all, TV, fame, fortune, their own toilet, but now those that were left couldn't even practice. The government regularly sent shell suited raiding parties into the forest with ear trumpets to listen out for rehearsals of 'Deep harmony' and 'Instant Concert' or other 'warbley nonsense'. Those caught were placed into stocks and forced to listen to 'Three Lions on the Shirt' and 'I Get knocked Down' by Chumbawamba for 23 hours a day in an attempt to cleanse their souls of their 'vile and perverted hobby'.
Sadly, but perhaps predictably, over time the public interest in their plight waned, the national mourning for the loss of the brass band movement was passing, out of sight and out of mind. With time, wounds started to heal, much like the weeks following Rod Hull's death after he fell of his roof fixing the TV aerial and the subsequent news that Emu wouldn't be seen performing again in public.
Gradually, one by one, the Resistance numbers faded. Many didn't have the stomach for the fight, abandoning their comrades under the shield of night, re-joining families and their collection of state-approved Hip-hop music, alternative clothes and a fully stocked bathroom of soft non-leaf-based toilet paper.
Some members of the Resistance, partly as a result of a previously indulgent life with an all-inclusive diet and having run out of insulin, left to seek medical assistance for their type 2 diabetes and bed sores.
Some simply perished in the harsh southern counties winter. With the temperature dropping to nearly 8 degrees Celsius and without their big coat, they didn't stand a chance.
Within a year the fight was over. Those who had survived the winter were suffering. Weight loss and muscle wastage from no longer lifting heavy instruments rendered a couple of tuba players barely recognisable. Not so familiar with moving their own gear, the percussionists looked pretty much unchanged.
It was pointless. No one cared anymore.
No longer was the fight mentioned in the news, the school children had forgotten what all the fuss was about and even the raiding parties had stopped bothering to look for them. The final insult was that the national football team actually won a game. The state-sponsored press headlines read 'Three Lions Roar Again' although the truth was they'd struggled against a 10-man Burundi, stealing a 1-0 win after extra time.
Deserted by their leaders (Harper, Childs, and King had long since gone, after turning state's evidence they'd combined funds to set themselves up as a firm of Reiki healers in Bristol), abandoned by their comrades and forgotten by a nation, they were as alone now as they had ever been in their lives.
In the end, there were only three.
Matthew came from a long line of cornet players and could trace his lineage all the way back to Parc & Dare Band and a bandsman named Pickin. The details were sketchy but his blood ran true.
Mark was relatively new to banding and it had only been in his family for 3 generations but the torch shone brightly with him. His family hailed from the North East and of all of the Resistance, he had coped best with the harsh winter. No one had ever seen him put his coat on.
Luke was a baritone player but despite this, he'd been welcomed openly into the Resistance. He didn't know much about his past and Jason and Peter didn't like to ask.
As they sat down on the final night they talked about their incredible journey, the adventure, the torment, the characters, the memories and the incomparable fraternity that being part of a band and now the Resistance had afforded them.
They cried as they mused how sad it was that no one else would ever have the chance to experience the movement, and they wondered with awe how it had been left to them to leave something, anything in the hope that one day, with a different government that maybe, just maybe children in the future might again know the satisfaction of being handed a cornet or trombone for the very first time (and the relief that it wasn't a tenor horn or a set of drumsticks).
They agreed on a plan and that night made their way to the River Severn.
Fashioning a crib from Luke's Baritone case, into it they placed a set of red hymn books, an old-style CD of Obrasso brass band classics, a DVD of Brass in Concert, three mouthpieces and a complete set and parts of Resurgum.
Quietly as they said their final thoughts to themselves they gently pushed the crib from between the bull rushes into the flowing river and watched it float off in the direction of Wales. They had done all they could, now it was up to the Gods (and the Welsh) to carry the fight.
As the crib moved out of sight, Matthew, Mark, and Luke turned to each other with a knowing look, turned and went off in their own direction. Perhaps in happier times, they'd see each other again?
Who knows?