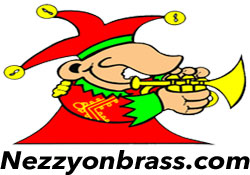 Do you need free cartoons for your band posters, programs, tickets, adverts or web site?
You can download any of the images in this gallery – the only condition is that you provide affirmation by placing a link from your website to https://nezzyonbrass.com – you can use the nezzyonbrass jester logo for the link if you wish (right click the jester image to download/save to your computer).  
The images must not be used to create physical merchandise such as T-shirts or mugs or used without prior permission.  If you wish to use any other images on the nezzyonbrass.com website please ask via the contact page.
To download a cartoon click on an image then right click and save to your device